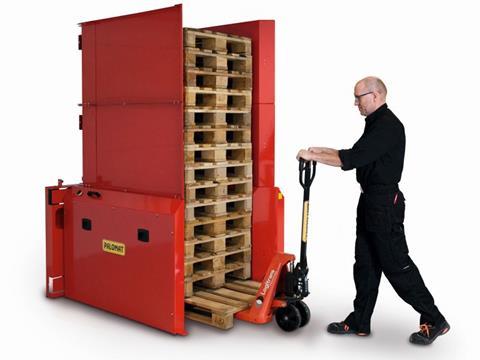 Danish pallet magazine manufacturer PALOMAT® are expanding their standard range with a new model - PALOMAT® Adjustable, which can handle both Euro and industrial pallets in the same magazine.
Effective and careful pallet handling at floor level
The PALOMAT® Adjustable automatically stacks and de-stacks empty Euro or industrial pallets individually at floor level. The pallets are handled in an easy and user-friendly way with, say, a pallet truck, electric pallet stacker or forklift truck. Employees are spared the inappropriate manual heavy lifting of pallets, the work environment is improved and the handling of pallets is made more effective.
The pallet magazine can be included as a natural part of, say, a production, a store, a packing department or a shop. All departments where pallets are handled manually.
Two pallet magazines in one - user-friendly switching between the two pallet types
The newly developed pallet magazine is the ideal solution for those businesses utilising both Euro and industrial pallets in the same section of the business, and where there is limited space. If you don't have space for 2 pallet magazines, then PALOMAT® Adjustable is the solution - 2 pallet magazines in 1.
The switch between the two pallet types only takes 5 seconds. An easy push of a button, plus a manual shove or tug on the left side of the pallet magazine, which is then adjusted. PALOMAT® Adjustable is set to either Euro or industrial pallets, depending on which pallet type the pallet magazine needs to handle. Great focus on securityAt PALOMAT®, safety during the use of their products is paramount. This is why PALOMAT® Adjustable and all the other types in the range comply with the most recent CE regulations. This is your guarantee that the products are produced in compliance with the requirements for health, safety and the environment.
More info: