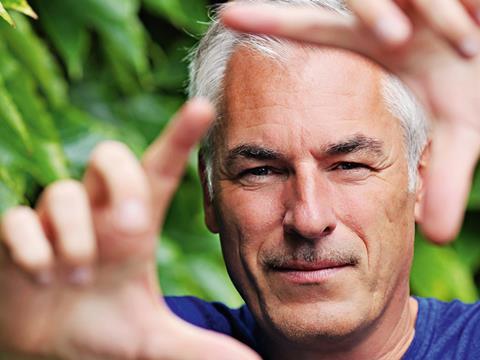 Patrick De Grande is an active member of the European Packaging Design Agency. As an association for pioneering European packaging designers the EPDA provides a forum for sharing information and ideas. De Grande is also the co-founder of Quatre Mains, an award winning Belgian design agency for brand identity and packaging design. Packaging design is his passion and he swears by practical and elegant design solutions that stand out for their creativity and professionalism. Who better than De Grande to reveal the key trends in packaging both now and in the future?
Which factors influence the consumer's choice of packaging?
I like to use the quote: "Don't design for brands. Design for people interacting with brands."You need to develop an emotional bond with the customer using the packaging. In other words: say exactly what your target audience is wanting to hear. The message can be portrayed in various creative ways: using a photo or drawing, with typography or colour, and either rationally or emotionally. Your target audience should be able to identify your brand DNA immediately from your packaging.
Admittedly, the consumer also chooses based on his needs or based on the functionality, or because of explicit innovation in the packaging. However, his choice is made because of the right story, the appeal factor or the hype! As a brand you should therefore be active in looking after your packaging: it's the new way to advertise. Also, brands and products are not always necessarily required to look respectable and trustworthy to be taken seriously. By treating your message creatively and adding a fun-factor shoppers will often view you as a good alternative.
Packaging is for more than just wrapping the product. What are its other functions?
Packaging in its current form still serves a purpose in our present society. Meanwhile it is gaining lots of additional new functions and possibilities. There is, for example, a visible revolution in terms of interaction. Following the rather slow – at times impossible – digital connection using QR codes and complex applications, brand owners now see a wonderful future ahead using near field communication (NFC). This allows two devices to make contact from short distances using a rapid bluetooth or wifi connection. And that's good news, because brand owners are crying out for progress: they want to move forward. After all, it's about time to connect with shoppers in an innovative way. Whether this interaction will also be the new battlefield in the war to win the consumer's heart, soul and wallet remains to be seen.
What are the challenges ahead for the packaging industry?
The demand for more sustainable packaging solutions keeps on growing, under pressure from regulators and the consumer. This means it is crucial for packaging producers and their customers to reduce the amount of raw materials used in packaging to a minimum. They need to ask themselves the question: "Will our production waste be recycled as much as possible or can the production process be improved even more to minimise the production waste?" The consumer is also aware that he is being taken for a ride by packaging with a recycled look and is demanding 'no more greenwashing'. This means that, in the future, packaging genuinely needs be produced in a sustainable way. And that means it's about time for the packaging industry to launch a proactive global debate on the definition and role of sustainable packaging. Otherwise it is feared that the impact of packaging waste on the environment will be given a disproportionate amount of attention. Companies who fail to take strategic action in this area will see their opportunities disappear as they lose out to more pioneering competitors. It is therefore up to the packaging industry to take charge of the debate rather than becoming the victim.
Which trends do you see in the world of packaging?
A first important message in packaging design for the future: keep it as simple as possible. The challenge is to get the essential values of a brand across in a simple text message that stands out in a world that is already full of messages. Compare this with the principles of social media: tell your message in a maximum of 144 characters. This does not mean that you need to simplify your message, but that you must convey it very clearly. After all, those rushing around the supermarket and filtering all the different packaging will immediately see the designs that appeal to them the most: recognisable shapes, colours and patterns, combined with simple typefaces and illustrations ... These are just some of the tools to help the exhausted and overwhelmed consumer in making his selection. The packaging material, printing and finishing techniques are also important in making a great first impression.
A second important trend: size matters. Brand owners can tackle the increasing lack of brand loyalty among consumers by providing packaging that is right sized for them, their families and the various usage occasions. This means that, for alcoholic drinks, consumers are looking for a wider range in smaller bottles. And the typical snack consumer is prepared to try new products if these are offered in trial sized packaging. Brands must therefore be more flexible to satisfy the shopper's increasingly changeable needs.
Third trend: packaging is becoming more decorative, which represents a ray of hope in the evolution of packaging. Products should no longer just look appealing in the shelves but should also help to make the consumer's home look more attractive. Products that used to be hidden at the back of the cupboard are now given a place of honour at home: a bar of chocolate, a lovely can or a decorative box of tampons. This means that the brand and the packaging are always on display and become emotional beacons for the consumer.
Last but not least, the fourth trend: maybe the time is finally now for truly no more waste packaging. Think about food products in an edible wrapper. Or soup in an entirely organic bag that dissolves without leaving a trace when heated. Or maybe we will soon be printing everything in our own homes with our own 3D printers...
What are the challenges for brand design in the future?
Brands need to become much more flexible. New consumers – above all the Millennials – demonstrate far less brand loyalty than their parents. They expect brands and manufacturers to go beyond limits and leave established principles behind. Brands that react more quickly will remain afloat in the ever-faster consumption culture. It needs to be clear what your brand stands for and you must keep a close eye on the promises you make to your customer. You also need to develop an emotional bond and involve the customer in the role you perform in his life. Equally you must try to strengthen the connection between your brand and the consumer. You owe it to yourself to think in broad terms and to learn from the competition, from critical consumers and from cutting edge ideas across the globe. In other words: think globally, act locally. Smart brands promote social harmony in our society. Only then can you be sufficiently flexible to handle risks and seize opportunities quickly.