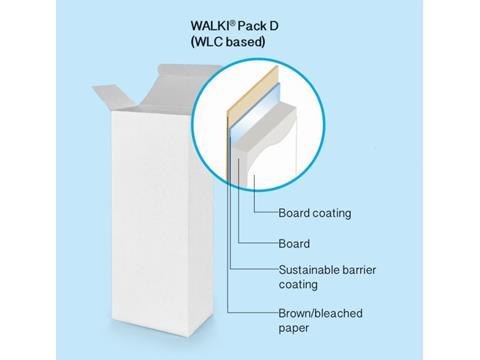 Walki offers cardboard-based laminate constructions for washing powders and other hygroscopic products which offer sustainability benefits and at the same time providing optimum product protection and allowing perfect processing.
Headquartered in Espoo, Finland, the company uses tall oil-based barriers instead of petroleum-based barriers and is already developing laminates with certified circular polymers to market readiness so as to close the material cycle.
Walki-Pack-D is a solution developed especially for packaging washing powders. "D" stands for detergent. It consists of a strong grey cardboard as the base material, a barrier layer for protection from water vapour and a thin, coated paper for printing and finishing. Conventionally, this type of water vapour barrier is manufactured from petroleum-based polymers. Walki has also developed a concept called Walki-Wood-Pack-D, which uses alternatives made from tall oil for the barrier. Tall oil is a by-product of pulp production. As such, it is obtained from vegetable raw materials, but it does not compete with food production. Tall oil can be used to produce coatings with the same properties and barrier levels as those produced from crude oil.
Identical properties to conventional coatings
The tall oil-based barrier protects the product just as effectively against clumping, keeps it dry and free-flowing and responds identically in the course of further processing. "The laminate construction with the alternative barrier layer is exactly the same as the previous one and can be replaced without having to adapt packaging production or filling lines. It consists of 100 percent renewable raw materials and is completely recyclable," says Stefan Erdmann, Technical Service & Development Manager Barrier Board at Walki. Walki-Wood-Pack-D can be used to package any type of powdery, hygroscopic product, such as wallpaper paste or tile adhesive.
Certified circular polymers for a zero-waste future
One step further is a concept that is currently close to market maturity and is expected to be available on an industrial scale from 2020. Circular polymers allow the material cycle to be closed. This is because they are produced in an innovative process from low-value, mixed plastic household waste that would otherwise be incinerated or landfilled. They are manufactured by SABIC, a long-term Walki partner. "Walki is a pioneer when it comes to sustainability. Today, more than 80 percent of our products are made from renewable or recycled raw materials. Our goal is to increase this to 100 per cent by 2030," says Leif Frilund, President and CEO Walki Group. "We have already taken an important step with our tall oil based barrier solutions. Another step will be the introduction of products with circular polymers."