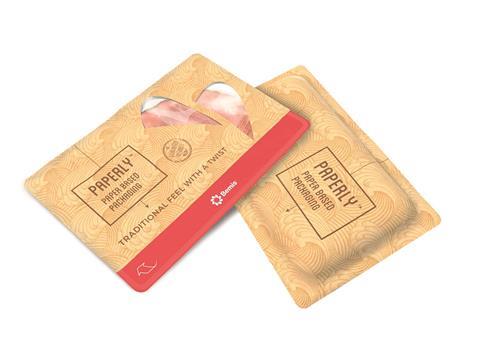 Paperly™ gives packaging a rustic feel and look and can be thermoformed on existing packaging lines with smooth angles. It can be combined with Bemis EZ Peel® and EZ Peel® Reseal™ liddings which can be complemented with Paper-Like™ tactile finish. If desired, this fibrous base can also be used with Bemis SkinTite™ to pack fresh meat or fish.
The rigidity of paper and thin high barrier liner allow minimising the use of non-renewable materials in the tray. The appealing authenticity come from the light weight, thermal insulation and texture of natural fibres. Furthermore, the appearance of the packaging can be customised e.g. with printing and embossing.
"We developed a sustainable specification that fits very well with our topwebs including peelable and recloseable topwebs with requirements fitting to the customer's demands. You can combine the paper based bottomweb with several of our standard topwebs including barrier films, peelable and recloseable topwebs with antifog and UV protection," comments Anne-Marie Abbeel.
She concludes, "At Bemis, we understand that when your product is just one on an aisle full of similar products, it's essential it stands out. Our Paperly™ paper-based packaging does exactly that."
This content was sponsored by Bemis.