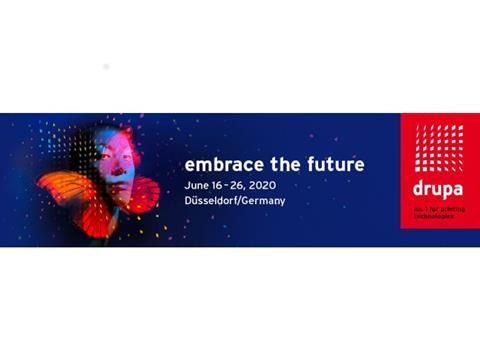 Packaging Europe is excited to announce that it will be a content partner for the touchpoint packaging initiative at drupa in June 2020.
The touchpoint packaging forum covers a range of printing technologies and packaging types for different markets and welcomes brand owners, designers, material suppliers, converters and other experts from the packaging industry.
As part of the collaboration, Packaging Europe will be hosting live discussion over two days, featuring thought leaders from packaging design, print and global brand owners. In addition to conference sessions, Packaging Europe will also produce content exploring the packaging contexts of drupa, which will be distributed to visitors. There will be a particular focus on how print can address tomorrow's packaging challenges, covering the opportunities arising from personalisation to sustainability and the growth of e-commerce.
drupa will also see the launch of a brand new magazine from the Packaging Europe brand, which will deliver world class content that helps brand managers and marketeers transform consumer engagement, differentiate their products and forge valuable brand experiences through packaging – more information coming soon!
"The combination of various perspectives on package printing lies at the heart of drupa touchpoint packaging, illustrated by the impressive participation of industry partners along the entire value chain. Adding Packaging Europe as a content partner is a further step to ensuring a stellar experience for visitors wishing to get a glimpse into the future of packaging," Kim Dröge, Senior Project Manager drupa and contact for touchpoint packaging explained.
"We are very excited to partner with drupa touchpoint packaging next year," commented Tim Sykes, head of content at Packaging Europe. "We plan to bring to the show compelling commentary on what's on the horizon for the packaging industry and what this means for the world of print. We're also working on some innovative concepts to not just discuss these ideas but bring them to life in engaging ways. Watch this space!"