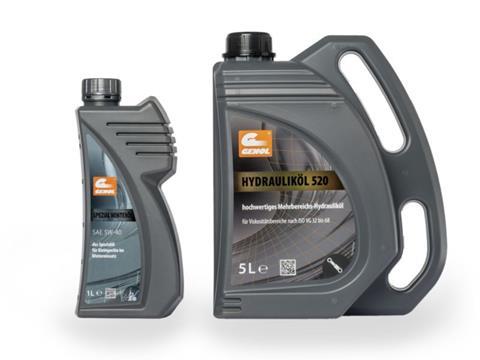 For the Austrian company Genol GmbH & Co KG, Greiner Packaging developed oil packs in two sizes. They distinguish themselves through excellent design and high user-friendliness.
The greatest user-friendliness together with attractive design was taken into consideration in the development of the Genol oil packs. The packaging in two sizes, 1 liter and 5 liter, had to be done with the least amount of material possible but had to have great stability; the shape of the bottles also had to allow as complete an emptying as possible.
Easy to stack, easy to use
In collaboration with the customer, the Greiner Packaging team, consisting of the internal Design & Prototyping Division (DesPro), project managers, and technicians, developed for both packaging sizes a solution that fulfilled all requirements:
For the 1 liter bottle, a container with sloping recesses was designed – these serve as a grip for ensuring that the container can be held well and securely in the hand. Furthermore, as label surfaces, they are used for an attractive decoration of the product and at the same time protect the label from abrasion. For the 5 liter bottle, a container with a double grip was developed – the grip ensures better weight distribution during stacking, since the weight does not rest solely on the closure. The flat portion on the upper grip end also makes it easier to stack the packs.
The openings in both bottles are placed off-center – a challenge in production, but an advantage for the end user: "The off-center mouth in both container sizes ensures optimal pouring behavior as well as nearly fully emptying the oil from the pack. The innovative packs are created using extrusion blow molding technology while optimizing material usage in terms of the highest level of cost-efficiency," says Günter Ausserwöger, Product Group Director of Greiner Packaging.
From production to storage to usage, both packs can be optimally adjusted to the entire supply chain – to the advantage of customers and consumers.
More info: