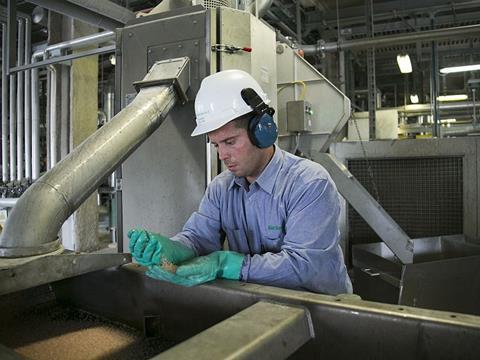 Novamont has announced the opening of a revamped Mater–Biopolymer plant south of Rome, significantly boosting production capacity from 120,000 tons per year to 150,000.
The new facility will increase production of ORIGO–BI®, biopolyesters with a high level of renewables, components of MATER-BI® compostable bioplastics, used to manufacture various applications as an alternative to traditional plastics, including coffee cups and pods, carrier bags, cutlery, straws and food packaging.
The overall investment amounts to 70 million euros, rising to a 100 million within the next three years. With a production capacity of 100,000 metric tons of ORIGO-BI® per year, and occupying a total surface area of 140,000 m2, the Patrica site employs around 90 people, not to mention the indirect employment generated by its operation.
Novamont has also perfected a process for wastewater purification to obtain from renewable sources tetrahydrofuran (THF), a chemical intermediate used by the pharmaceutical industry to produce antidepressants and hormone drugs. It will be the first industrially produced bio-THF.
Novamont recently announced a contract with the UK's Co-op retailer to supply bio-based and compostable carrier bags for shoppers at its stores. The increased production of the Patrica site will help meet the demand from contracts for compostable plastic bags to retailers throughout Europe, including Leclerc (France), Carrefour (France and Italy), Coop (Finland), Delhaize (Belgium), and Esselunga (Italy).
"Novamont's industrialisation efforts over the last few years have been enormous and have few equals anywhere in Europe," said Catia Bastioli, Novamont's CEO. "All in all, we must work together towards a regenerative approach to natural resources, which should be seen as a great opportunity to redesign our society on a sustainable basis with its roots in the land, more inclusively and contributively, where there is equal space for the big and the small. In all of this the world of agriculture and the soil and its preservation and regeneration are of vital importance."
The plant originated from reconversion of the former Mossi & Ghisolfi plant, which manufactured PET. The various sections of the plant have been regenerated, modified and in some cases wholly renewed to implement innovative technologies developed by Novamont.
The technologies are able to use the raw materials of Novamont's system - biobutandiol and azelaic acid, bio-based monomers - to manufacture ORIGO-BI® biololyesters through a process which is increasingly sustainable, and always directed towards reducing emissions.
Mater-Biopolymer also runs a system which minimises costs and waste through waste recovery with a view to the circular economy and sustainability.
Reconversion of the second production line and THF recovery have generated environmental advantages by reducing CO2 emissions and reducing travel by wheeled transport. These can be quantified as follows:
• 246,000 metric tons of CO2 equivalent emissions per year have been avoided.
• 1,296,000 km of wheeled transport have been avoided, in comparison with the transport of THF-containing wastes which were disposed of off-site.
In line with Novamont's strategy based on the use of world-leading technologies for the revitalisation of industrial sites, Mater-Biopolymer is a benchmark of industrial development aimed at local regeneration and the beneficial reutilisation of decommissioned infrastructure.
The plant is a further step forward in the local integrated biorefinery model championed by Novamont, which now has six interconnected reactivated sites, four proprietary technologies and a number of strongly innovative service plants which are in turn capable of producing new products.