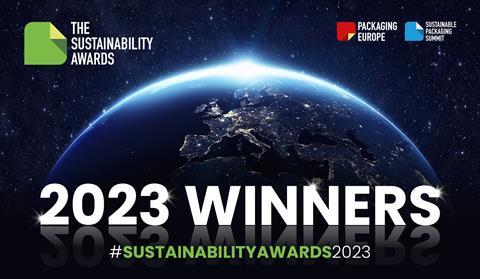 The winners of the Sustainability Awards 2023 – the most prestigious global competition for sustainable packaging innovation – have been announced at the Sustainable Packaging Summit in Amsterdam, during an awards dinner filled to the brim with 400 industry leaders. For the first time in Sustainability Awards history, joint winners have taken home prizes in two of the categories!
Let's take a look at the winning entries.
Our Overall Winner was also the successful nominee under the Machinery category; AMP Robotics won both awards for AMP Vortex, its AI-powered automation system for film removal and recovery in recycling facilities. Vortex can identify film and flexible objects, at which point the material is captured and removed via an automated vacuum and deposited in a configurable location.
Vortex combines AI with recycling-specific automation in pursuit of a sorting mechanism designed specifically for the recycling industry – aiming to relieve recycling facilities of the responsibility to reduce contamination in waste streams and scale the recycling of film and flexible packaging.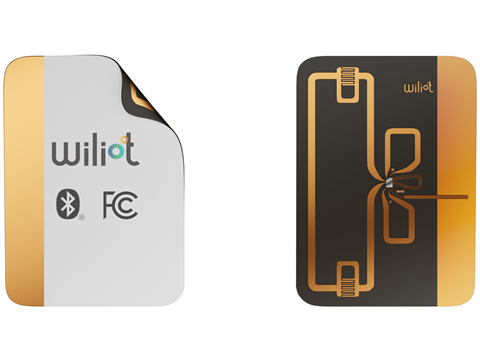 Wiliot was also recognized for its Ambient IoT Visibility Platform. Its battery-free, stamp-sized connectors, or IoT Pixels, transmit information – e.g., location, temperature, humidity, and carbon footprint – at an item level and enable connection throughout the supply chain.
Applicable to shipping containers, fruits and vegetables, vaccine vials, and more, the solution connects to the internet and offers real-time data to businesses – enabling them to make informed decisions in their efforts to cut down on emissions.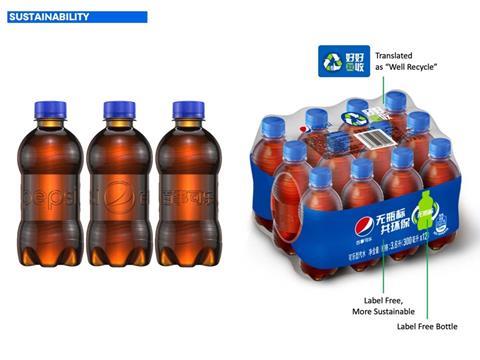 The Best Practice award went to Pepsi in China. The company has streamlined recycling and cut down on the carbon footprint of its multipack PET bottles by removing their plastic labels and ceasing to print their caps.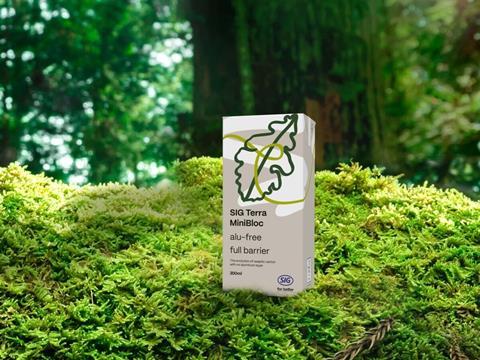 Taking home the top prize for the Climate category, SIG's SIG Terra Alu-Free + Full Barrier packaging material does not require an aluminium layer to provide the same barrier properties as a foil-lined solution. It removes the most carbon-intensive component of an aseptic carton pack, features a high renewable share, and is designed for easy recycling.
The material can be used to package oxygen-sensitive and insensitive beverages, like fruit juices and plant-based drinks, and it set to cut down on food waste, even amidst more complex supply chains.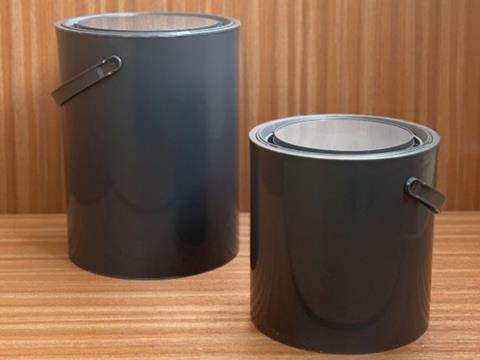 The winner of the Driving the Circular Economy category was Berry Global, whose Closed Loop Recycled Paint Containers constitute a circular partnership that combines paint and packaging recovery and recycling. The solution involves the removal and re-engineering of leftover paint from an empty container, resulting in clean, recycle-ready cans and new paint.
This process expects to cut down on pollution and carbon emissions by diverting both paint and packaging waste away from landfill or incineration.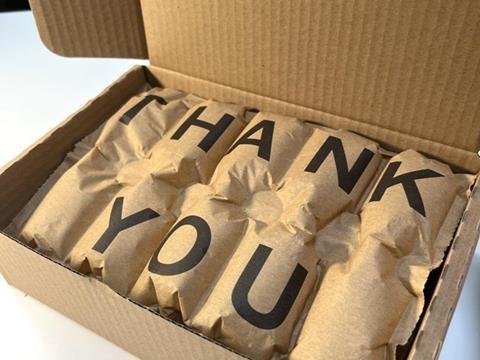 Flöter Verpackungs-Service GmbH and AirWave Packaging's PaperWave Box won the award under the E-commerce category. It is based on Amazon's Frustration-Free packaging concept, reducing the amount of cushioning material inside the box by 40% and packing time by 50-70%.
PaperWave is FSC-certified and made of 100% recyclable paper with a starch barrier. It is both recyclable at kerbside and compostable.
The box's clamshell effect is reinforced by the inflated PaperWave inlet, made for 100% FSC recyclable and compostable material. Both can be printed with marketing and branding material for individual uses.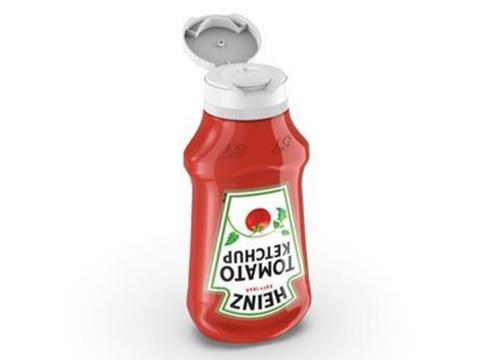 The Recyclable Packaging award went to Kraft Heinz for its mono-material Balaton dispensing closure. It is designed to ensure the recyclability of the whole bottle, including the cap, and replace around 300 million non-recyclable silicone valves annually.
Reducing the number of components to two parts is expected to benefit production and logistics, while its design – easy to open and releasing the 'perfect' serving of ketchup when the bottle is squeezed – has proven popular with elderly consumers.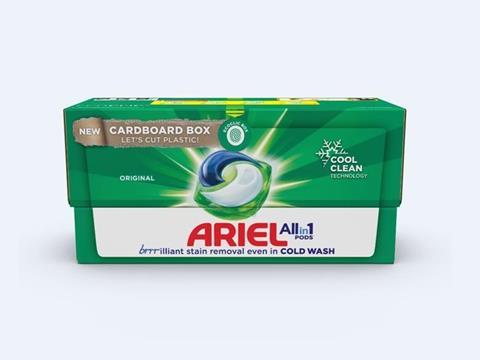 Procter & Gamble was our Renewable Materials winner with its ECOLIC Box for Ariel liquid laundry capsules. Containing 70% recycled content, the box brings together recyclability, safety, and a design geared towards an inclusive consumer experience, all while replacing the standard plastic container.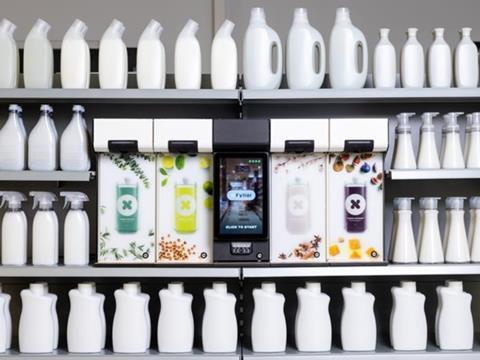 Our first set of double winners came under the Active and Intelligent category. Fyllar's mess-free smart refill solution is designed to facilitate a clean, efficient, and low-cost refill experience, cutting out the shortcomings of traditional refill methods and redefining the use and perception of packaging.
Its smart fill RFID tag recognizes different products and fills packaging accordingly. It also facilitates data-driven reward systems, streamlines processes, and optimizes inventory management.
And now for our pre-commercialized winners: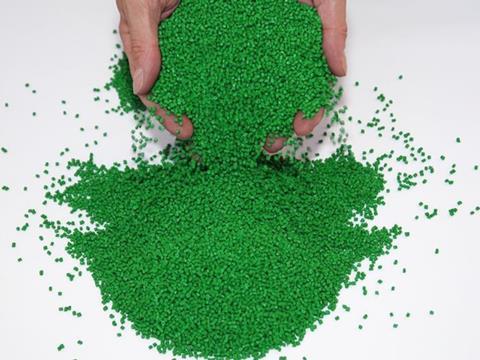 In the Pre-Commercialized Active & Intelligent category, the National University of Malaysia came out on top with its starch-polyaniline biopolymer film. It is reinforced with cellulose nanocrystals extracted from agricultural waste.
Films made from this biopolymer are biodegradable and visibly change colour from green to blue to indicate when the food inside has spoiled. This packaging aims to cut down on plastic and fossil fuel consumption, keep waste out of the ocean, lower food wastage rates, and give a second life to agricultural waste streams.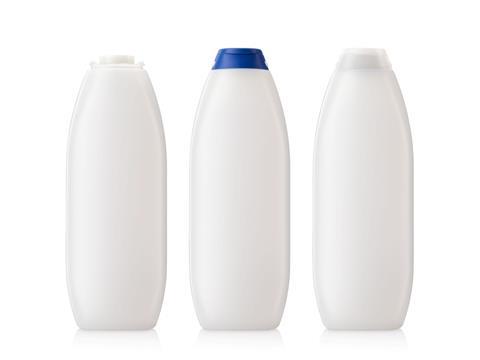 Next up was ALPLA Group in the Pre-Commercialized Climate category. Its lightweight Canupak beauty packaging intends to optimize the carbon footprint of the entire packaging system, from its production using 100% renewable energy to its transportation, in a cradle-to-gate plus end-of-life approach.
Developed in line with design and recycling regulations, it can be integrated into a customer's portfolio at any time. The solution hopes to inspire businesses and the wider market to opt for carbon-optimized solutions.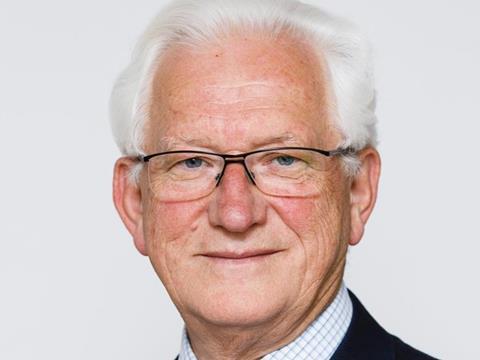 The Pre-Commercialized Driving the Circular Economy award went to Nextek Ltd for COtooCLEAN – a technology that decontaminates post-consumer polyolefins using low-pressure super-critical CO2 and green co-solvents in a closed loop. This process removes oils, fats, and printing inks and restores flexible films to food-grade quality in line with EFSA food-grade standards.
Unlike other industry practices, the technology is free of water, caustic soda, and surfactants.
It is expected that COtooCLEAN will create a new waste stream to keep waste out of landfill and prevent downcycling. Additionally, it hopes to boost recycling rates for flexible films and lower the demand for virgin resin.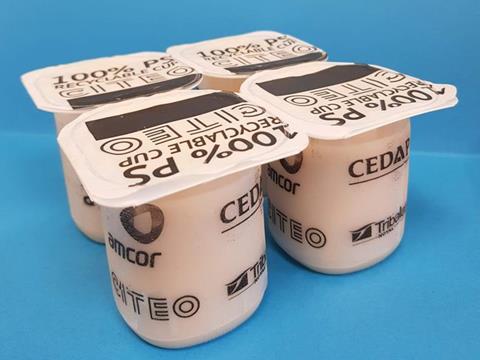 Our second set of double winners emerged in the Pre-Commercialized Recyclable Packaging category. The Fully Recyclable Ready Polystyrene Yogurt FFS (form-fill-seal) pack developed by Citeo, Olga, Plastiques Venthenat, Amcor, Cedap, and Arcil-Synerlink was one of the winners.
The yoghurt cup constitutes 98.5% raw material polystyrene and enables French producers to market their packaging as fully recyclable in the new polystyrene recycling stream. As well as encouraging investment in new polystyrene recycling plants across Europe, it is expected to promote the creation of a circular packaging loop and optimize the efficiency of the whole recycling chain.
In turn, it hopes to drive down the utilization of fossil-based plastics and compel end users to sort their waste appropriately.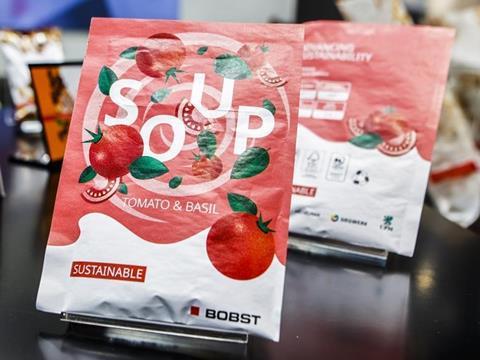 Bobst Mex, UPM Specialty Papers, and Michelman's OneBARRIER FibreCycle solution was the second winner. Its high-barrier, paper-based structures are lined with a thin primer and top coating on vacuum-coated layers; as such, they can be recycled in existing fibre waste streams.
OneBARRIER FibreCycle's end-to-end integration lowers the possibility of defective packaging substrates. It is expected to combat the plastic waste crisis with a product that offers high quality, optimal protection, productivity, market acceptance, and sustainability.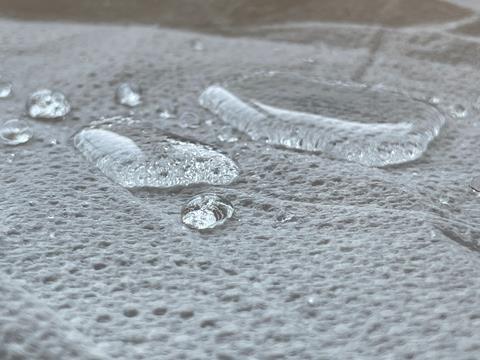 Cellulotech's scalable green chemistry process received the Pre-Commercialized Renewables award. It replaces coating processes with a solvent-free chemical reaction that attaches one-nanometre molecules around paper fibres.
This solution provides paper products with barrier properties to increase their durability and optimize their full potential whilst phasing out plastics, silicones, waxes, and other less sustainable materials. Compared to standard materials, it can lower costs by up to 90% in certain applications, while also cutting down on carbon footprints and enhancing the pack's recyclability.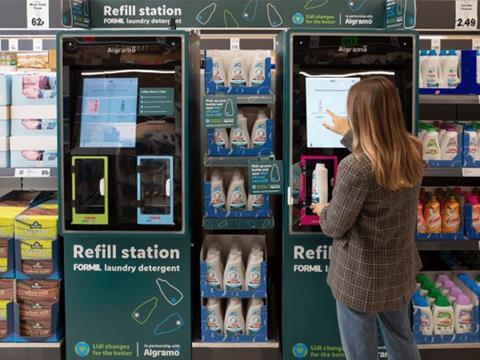 You selected Lidl, Algramo, and Fyllar's automated refill station for liquid laundry detergent as the winner of our Readers' Award! This is the category that is decided by Packaging Europe subscribers, rather than the Sustainability Awards' expert judging panel.
The machine utilizes smart, refillable, 100% recyclable HDPE bottles and touchscreen machinery to save 59 grams of plastic – the weight of the equivalent single-use bottle – with every use. It recognizes a chip contained in the refill bottles to distinguish between first-time users and reused bottles, charging the consumer accordingly. It also ensures that each bottle is filled up to 980ml.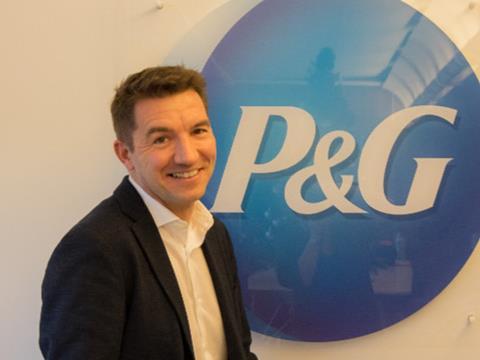 And, last but by no means least, Gian De Belder from Procter & Gamble received an award from the Sustainability Awards panel for Outstanding Contribution. This is a new category celebrating an individual's work towards packaging sustainability rather than a project or product.
While perhaps best known for the leadership he has given to the HolyGrail digital watermarking project, Gian is also greatly esteemed by his peers for driving cross-industry collaboration with his own commitment and generosity, displayed in his work across countless Boards and Advisory Groups.
As this year's Sustainable Packaging Summit comes to a close, we'd like to thank everyone who attended the event and congratulate every finalist shortlisted for an award. We were impressed by every nominee and hope to see the hard, sustainability-minded work continue.
Take a look at all the finalist interviews from this year, and keep up to date with the latest news and updates about the Sustainability Awards under our dedicated tag.
Submissions for next year's awards will open in January 2024. Find out more about the application process here.