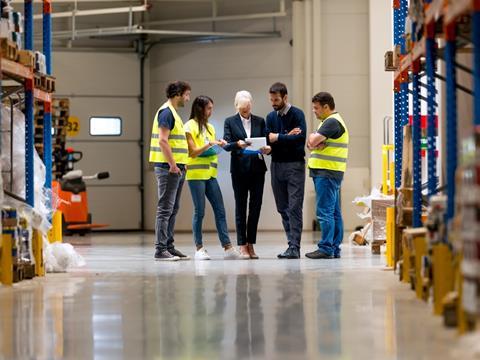 Gartner's Women in Supply Chain survey has found that women account for 19% C-level positions in supply chain organisations in 2022, a slight increase from 15% in 2021. However, the total number of women in the supply chain workforce has decreased since 2021.
The Women in Supply Chain survey was conducted online between February and March 2022, with 116 respondents primarily based in North America. Gartner says that 85 respondents were end-user organisations with internal supply chains, while 31 offered supply chain business services and solutions. The organisations that responded to the survey had to have a minimum annual revenue of $100 million.
In 2022, Gartner says that women account for 19% of C-level positions in the average supply chain organisation, an increase of 4% from the previous year. "Compared to the last year, representation of women in supply chain has improved at the first-line manager/supervisor, senior manager and director levels of the supply chain organization, as well as at the senior-most level: the C-suite," explains Caroline Chumakov, senior principal analyst with the Gartner Supply Chain practice.
According to Gartner, the survey findings point to a relationship between the size of the organisation and purposeful goal setting aimed at improving the representation of women in supply chain management.
83% of large global organisations with $5 billion or more in annual revenue have a stated objective to improve the representation of women in leadership roles, Gartner reports. 38% apparently have incorporated formal targets that appear on management scorecards.
However, Gartner says that nearly 50% of medium and large organisations, with between $100 million to $5 billion in annual revenue, have no objectives to increase the number of women leaders in their supply chains.
Chumakov adds: "Global organizations have better pipelines and better representation of women underrepresented races and ethnicities.
"They are also significantly more likely to have these women in a director position than medium or large organizations."
Gartner's survey suggests a small decrease in the number of women occupying some other positions in the supply chain. For example, women comprise 21% of VP-level roles in 2022, a decrease from 23% last year. Interestingly, previous data from Gartner found that the number of women in VP and senior director roles were 28% in 2019, which implies a more significant decrease in the representation of women in these roles over the last three years.
Overall, there was also a decrease in the total number of women working across the supply chain, with women representing 39% of the workforce compared to 41% in 2021. Gartner also reported that women represented 39% of the total supply chain workforce in 2020 and 2019, which could point to stagnation in terms of the number of women joining, progressing through, or remaining in the industry.
Gartner's survey also found that the COVID-19 pandemic was having a greater impact on the representation of women in the workforce this year, with a "significant uptick" compared to the 2021 results. 43% of supply chain leaders reportedly told Gartner the pandemic is having a negative impact with regards to the retention and progression of women in supply chain organisations over the last year; in the 2021 survey, only 11% reported the same challenge. In addition, over half of end-user organisations state that retaining midcareer women is an increasing challenge, according to Gartner.
Gartner links this to the so-called Great Resignation, a trend associated with the pandemic where workers appear to be leaving the workforce at a near-unprecedented rate. Based on a 2021 survey, the Pew Research Center found that the main reasons people are leaving their jobs are low pay (63%), a lack of opportunities for advancement (63%), and feeling disrespected at work (57%).
The respondents to Gartner's more recent survey report similar reasons for leaving. The top reason for midcareer women leaving the supply chain is apparently a lack of career or advancement opportunities, with the number of respondents giving this explanation increasing from last year.
Likewise, according to Gartner, the second – and highest-climbing – reason why midcareer women are leaving supply chain roles is that they are seeking more competitive compensation. This reason accounted for 43% of responses, which Gartner adds is a moderate increase from 24% of respondents giving the same reason in 2021.
There is a significant gendered element to the Great Resignation phenomenon. According to Gusto, which oversees payrolls for small- and medium-sized businesses, the quit rate among women was 1.1 percentage points higher than men in August 2021. In the US, for example, the National Women's Law Center has found that there remained 1 million fewer women in the labour force in January 2022 compared to February 2020, while men have recouped all their labour force losses in the same time period.
The Pew Research Center reported, in 2021, that approximately 48% of workers resigned because of childcare issues. While the same survey found that men and women mostly gave similar reasons for leaving their jobs, the Great Resignation has demonstrated that childcare is a challenge that continues to impact women to a more significant degree than their male counterparts.
As reported by Forbes, for example, companies refusing to allow flexible or hybrid working after the lifting of COVID-19 restrictions have put a strain on women employees who were able to adapt their schedules more while working from home. The premature lifting of COVID-19 restrictions has also led to a significant number of children having to take time off school due to sickness, especially during the Omicron surge, which has further added to the pressure on employees who are parents, especially women. This has made returning to the office inaccessible for some.
On this note, the Great Resignation has not necessarily been entirely negative for women. Insider identifies data that found almost a third of women who switched jobs in the past two years received compensation packages greater than 30% compared to their previous positions – which is a slightly larger increase, on average, than for men who reported pay increases. However, it seems that women who earn lower wages are being completely forced out of the workforce at a significant rate, potentially providing a false impression of the wage gap decreasing between men and women employees.
Another statistic worth highlighting from the National Women's Law Center is that the unemployment rate for Black women aged 20 and over increased from 5.8% in January 2022 to 6.1% in 2022. Unemployment rates for all other ethnicities either dropped or remained the same, according to the National Women's Law Center. This emphasises the need to account for intersections among women employees, with race, disability, and class also influencing experiences of employment within this category.
Despite financial reasons being some of the main explanations women give for leaving their jobs, Gartner says that only half of the supply chain organisations it surveyed had targeted initiatives focused on improving benefit offerings for women or closing the pay gap.
According to Chumakov: "While 14% of end-user organizations stated they've already achieved pay equity, it is concerning that 59% of respondents have no action plan to close the gap.
"In today's hypercompetitive labour market where women are increasingly seeking out pay increases and ethical employers, these data points reveal a hidden attraction and retention risk."
Gartner's survey points to the need for more support for women in supply chain roles. Chumakov concludes: "Chief supply chain officers (CSCOs) remain committed to gender diversity, but this survey suggests that they will need to double-down on goal setting, leadership inclusion and career-pathing for women."