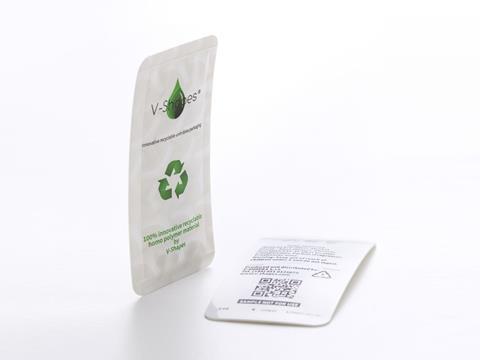 V-Shapes has developed single-dose polypropylene (PP) sachets that it says are fully recyclable thanks to its high-barrier, mono-polymer substrates that are designed to be detected, sorted, and recycled in the industrial waste stream.
According to V-Shapes, the two new substrates, reNEW oX-100 and reNEW oX-500, consist of a sheet of PP copolymers with a high-performance barrier. These substrates have been certified as recyclable by Interseroh, with the organisation apparently placing them at the high end of the scale in terms of suitability for mechanical recycling and the provision of secondary products.
Because they are a mono-polymer construction, V-Shapes says that the substrates add no PE or PET to the recycling stream. The mono-polymer construction of the substrates reportedly allows them to be widely recycled.
V-Shapes claims that the substrates allow for the production of 100% recyclable PP sachets with high-barrier capabilities. The company adds that the substrates create the same size and weight sachets as other 100% recyclable materials used by V-Shapes.
Christian Burattini, CEO of V-Shapes, comments: "With its groundbreaking solution for on-demand production of recyclable 100% polypropylene sachets for liquid and semi-solid products, which can be opened with a single gesture using one hand, V-Shapes revolutionized the single-dose packaging market.
"Now we have brought to market another important innovation: 100% recyclable polypropylene sachets with high barrier capability.
"Why is this important? Most high-barrier applications, often required for food and other products, contains a plastic or foil layer that renders the packaging difficult, or even impossible, to recycle. V-Shapes has designed a brand-new type of high-barrier substrate that has been certified by Interseroh as recyclable, with extremely high ratings by this well-known certification organization."
The reNEW-oX materials are currently available for use with new and installed V-Shapes single-dose packaging machines. V-Shapes says that the materials are available in several widths, ranging from 70 to 340 mm, to be suitable for both the PRIME and ALPHA machines, from one to six lanes of production.
At ProPak Asia 2022, which will run from the 15th to the 18th of June at BITEC Hall in Bangkok, attendees will be able to see the materials on Stand AA17.