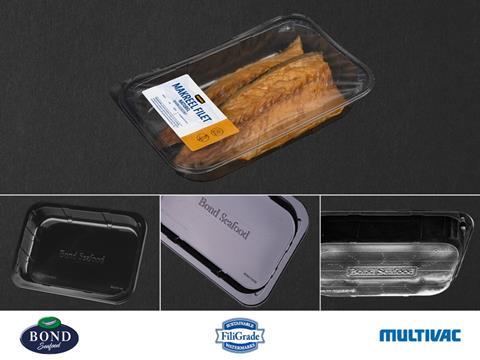 The CurvCode digital watermark sorting system for plastic waste is set to make its first appearance on supermarket shelves in the Netherlands with Bond Seafood's recyclable packaging for fish designed by MULTIVAC.
FiliGrade, an Eindhoven-based company, has developed the patented CurvCode digital watermark with a particular focus on facilitating the separation of food packaging from household waste and other plastics, in order to create residual flows that can be recycled back into food packaging. According to the company, this is an important step in developing a circular plastics supply chain and preventing plastics from ending up in nature.
FiliGrade says that the CurvCode technology is a digital watermark, describing the material, colour, type of layer, and application of packaging, which can be recognised at waste processing facilities that use CurvCode detection equipment. Packaging with the CurveCode watermark can then be mechanically separated from non-food application packaging, avoiding other waste management strategies like incineration that can eliminate valuable materials.
Bond Seafood's tray for fish was developed by MULTIVAC and, according to the company, has been monomaterial PET since last year. Now, the packaging is reportedly made of recycled PET and features the CurvCode watermark – the first product on the shelves in the Netherlands to do so. The new packaging will be used for Bond Seafood products like smoked mackerel and herring fillets at Jumbo Supermarkets.
At present, FiliGrade notes that it has around 30 partners committed to collaborating on plastic waste sorting in the Netherlands with technology including CurvCode.
According to the company's website, FiliGrade is working with the European Commission on plastic sorting and recycling research projects, as well as being active within Plastic Pact NL, European Plastic Pact, and PetCore. FiliGrade's CEO, Johan Kerver, was a co-founder of the HolyGrail 1.0 initiative and the company is a member of HolyGrail 2.0, although requests to demonstrate the CurvCode technology to other members have reportedly been rejected.
HolyGrail 2.0 has received more widespread coverage across Europe, with over 130 companies from the packaging value chain have joined the initiative.
In September, HolyGrail 2.0 entered semi-industrial trials with a pilot project in the City of Copenhagen, where a prototype sorting detection unit will be installed in the coming months for the purpose of demonstrating the technology with around 125,000 pieces of packaging. The sorting technology developed by Pellenc ST and Digimarc uses NIR/VIS infrared to recognise and thus sort watermarked packaging, and was apparently successfully validated with a >95% ejection rate.
Speaking to Packaging Europe earlier this year, Eric Westerhoff, director of marketing at Pellenc ST, acknowledged the HolyGrail 2.0 initiative has not progressed without challenges. The technology requires high-power LED lighting, high-resolution cameras, and substantial computing power. However, Westerhoff remained hopeful that the technology will significantly improve sorting for applications such as separating food and non-food – much like the aim of FiliGrade's CurvCode technology.
The next steps for HolyGrail 2.0 involve an installation in France at Recyclers and MRFs for industrial testing, which represents phase 3 of the project. AIM – European Brands Association and the Alliance to End Plastic Waste, the organisations behind HolyGrail 2.0, say that in-market demonstrations are likely to take place in 2022. During the commercial test phase, consumers in Denmark, France, and Germany are expected to be able to buy on-shelf products with digitally watermarked packaging.
As for CurvCode, FiliGrade appears to be looking to expand the scope of its operations. Han Meiberg, business development director at FiliGrade, concludes: "We want to accelerate and believe in high-quality sorting and recycling, in the Netherlands, and then also in the rest of Europe."