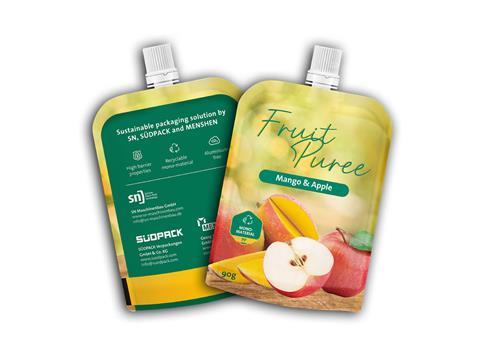 SN Maschinenbau and Südpack have entered into a developmental partnership to create a concept for the in-house production of recyclable stand-up pouches with spouts designed for packaging pasty and liquid products.
The polypropylene-based concept is intended for food producers and fillers who have up to now been using pre-made spout pouches, and will be presented for the first time at the international trade fair Prod&Pack in Lyon from November 21 to 23, 2023.
"With the overall concept, we are offering our customers an attractive alternative to high-cost pre-made pouches, the processing and filling of which often entails a great deal of logistical effort. Our solution makes it possible for the producers and fillers of pasty and liquid food products to manufacture spout pouches in-house that can then be filled and sealed as usual on their existing filling machines.
"Our concept is based on a user-friendly pouch-making machine combined with films and spouts that are perfectly coordinated, which means they can be reliably processed," says Lutz Neugebauer, Product Manager at Südpack.
"The film can be processed from the reel, which provides many advantages in terms of efficiency and economic profitability without having to make compromises when it comes to quality," elaborated Neugebauer. This makes the concept an economically attractive overall solution for all production quantities.
The companies say that the PP-based Pure-Line films used in this packaging concept are classified as recyclable due to their monostructure. In combination with the PP spouts that are currently on the market, the result is a recyclable spout pouch. And due to its heat resistance, the pouch can also be used for hotfilling and pasteurization. The films can be equipped with different barrier functions to suit the products that are to be packaged.
On the SPM 50 horizontal pouch-making machine from SN Maschinenbau, the spout pouches are manufactured horizontally from the film reel and the spouts are sealed in. They are then automatically inserted into the commercially available rail systems and are stored on a transport cart.
Every rail can then be inserted into the existing pouch-filling machines to allow filling of the empty spout pouches. The companies say that when compared to pre-made pouches, this significantly simplifies handling and allows staff to process an increased number of pouches more efficiently, because the time-consuming process of separating the rails is eliminated.
Pouch production can be insourced because the machine is reportedly user-friendly and can usually be operated by the existing staff. The reel change requires minimal set-up time and has to be performed at most once every shift.
The companies say that the new format makes up to 4,200 pouches per hour and can achieve continuous production of over 30,000 spout pouches per eight-hour shift with just one film reel. This apparently results in an annual production volume of seven million spout pouches in one-shift operation and up to 21 million in three-shift operation.
SN Maschinenbau and Südpack claim that producing pouches on-site eliminates the complex handling and logistics needed for finished pouches, which would usually be delivered on rails in cardboard boxes.
The companies also claim that the space that is necessary for reels is roughly one-third of what is needed for pre-made spout pouches. In addition to reduced transport costs, this also aims to simplify warehousing. Furthermore, the cardboard packaging from pre-made pouches is no longer required.
When it comes to flexibility, the concept for in-house spout pouch production also seeks to provide substantial benefits. The machine can reportedly be flexibly adapted for the production of pouches of various shapes and sizes, as well as for the processing of different materials.
If you liked this article, you might also enjoy:
The L'Oréal approach to packaging sustainability
What steps is Apple taking to make its packaging more sustainable?
How did Brazil achieve its 100% aluminium can recycling rate – and can it be replicated in the EU?
Experts have their say on the EU's Packaging and Packaging Waste Directive revisions
Also, if you're interested in packaging sustainability, you will want to attend our Sustainable Packaging Summit in Amsterdam on 14-15 November. The Summit brings together leaders and pioneers from across the industry to align strategically, learn, network, and create a critical mass to accelerate change. You can learn more by clicking here, and you can buy a ticket to attend here.