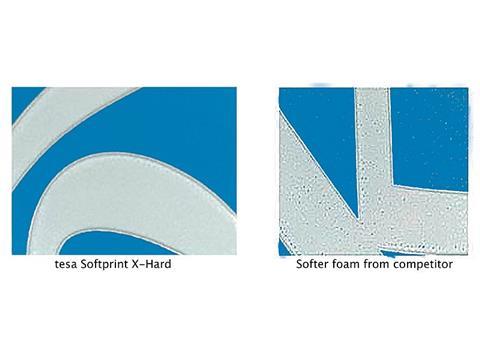 To meet the ever-increasing demands of the flexographic printing industry and the issues it faces, tesa has a new addition to its current range of Softprint® plate mounting tapes.
The only tape manufacturer currently offering this product to the marketplace, tesa Softprint® X-Hard has been designed to combat the troublesome issue of pin-holing. Pin-holing has a direct effect on print quality and often leads to uneven or incomplete ink distribution on solid print areas, resulting in a loss of density and a reduced colour vibrancy.
Choosing the appropriate foam hardness within the plate mounting tape, in conjunction with the selected printing plate, is a crucial factor to achieve the best solid ink density. The technical advantages of the new tesa Softprint® 72129 STM-TP are based on a new formulation of tesa's high performance closed cell PE foam, which provides excellent cushioning, high resilience, and fast recovery properties to ensure a uniform ink laydown on solid areas. The benefits for printers are high printing speeds and consistent print quality.
The addition of X-Hard extends tesa's current Softprint® range, which includes X-Soft, Soft, Medium, Medium-Hard and Hard options. Historically, foam plate mounting tapes were divided into two thickness categories: 380μm (15 mil) for label printing (narrow web) and 500μm (20 mil) for flexible packaging printing (wide web). Nowadays, customers decide individually which category offers the most benefits for their processes. The expanded tesa Softprint® assortment offers both thickness categories at an equally high level of quality in terms of print results and adhesive properties.
Richard Eeles, tesa UK's Key Account Manager for flexo, said "tesa is aware of the daily issues that the print industry faces, and by investing time and resources to address these, we are finding solutions that set the highest standards to ensure the future growth of the industry."