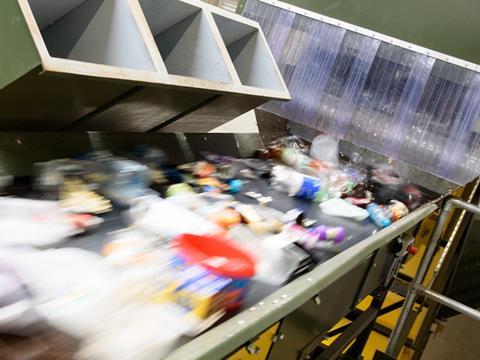 NEXTLOOP, the PP recycling project led by Nextek Limited, has announced that its trial to sort food-grade plastic packaging waste using a label marker achieved 99.9% sorting purity at maximum production speed.
The trial, which took place at the Germany-based TOMRA test centre in September 2021, is part of NEXTLOOPP's programme to develop new recycling initiatives for food-grade polypropylene (FGPP). NEXTLOOPP's PolyPrism 'plug-and-play' marker system was used on TOMRA's sorting equipment for commercial purposes, enabling it to be validated at the test site.
The PolyPrism technology is intended to differentiate food packaging from non-food packaging to meet standards required by the Food Standards Authorities in the UK and EU. This is achieved using an invisible marker on the label, which can apparently be identified by optical detectors and sorted at high speeds with air jets.
According to NEXTLOOPP, the technology can identify variations – such as between a milk bottle and a bleach bottle – in plastic packaging at a maximum production speed of more than two tonnes per hour.
Ralph Uepping, technical director at TOMRA, comments: "During recent trials held at our TOMRA Test Centre, we achieved very promising results on all polypropylene 3D samples in all test runs with state-of-the-art NIR/VIS technology.
"We exceeded the required 95% purity for food-grade in each test run."
For the First Pass, 99.3% purity of sorted packs was achieved, while the Second Pass gave the 99.9% figure.
Uepping addS: "The next important milestones will be a field demonstration as well as demonstrating chemical compliance with food-grade regulation."
NEXTLOOPP adds that the next step in its goal of creating a low carbon, circular economy for plastics is its patented decontamination process, PPristine, which should enable sorted and recycled plastics to be reintroduced to food packaging streams.
According to NEXTLOOPP, recycling 63,000 tonnes of PP per annum would save an estimated 105,600 tonnes in CO2 emissions in the UK each year.
Led by Nextek Limited, NEXTLOOPP brings together companies from across the value chain, including Danone, Viridor and Sealed Air, to prevent PP packaging from being sent to waste-to-energy, landfill, or down-cycled, low-performance applications – a misuse of food grade PP's potential, the group says. In June 2021, Unilever joined the initiative as part of its commitment to increasing recyclable and recycled content in its packaging.
NEXTLOOPP was a finalist in Packaging Europe's 2021 Sustainability Awards for its commitment to circularity for PP. It was named the overall winner at the awards ceremony at FachPack in September 2021, as well as achieving an award in the 'Driving the Circular Economy' category.