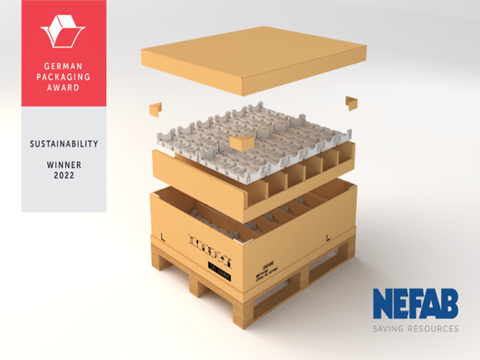 Nefab's fibre-based EdgePak Straw packaging solution for lithium-ion batteries (LiB) has recently been announced as the winner of the German Packaging Awards of 2022.
Reportedly, the achievement came in light of Nefab's transition into mono-material fibre solution and the resultant reduction of expanded polypropylene (EPP) materials. Despite being fibre-based, the packaging is said to be capable of holding products of over 350 kilograms per box – Nefab compares its strength to that of plywood – and allows for 1+3 stacking that is said to hold more firmly than a triple wall corrugated box.
According to the company, the solution lowers environmental impact and chain costs. The packaging is designed to be handled easily and does not require nails to hold it together. As such, it can be assembled and re-opened safely and quietly, and need not be dissembled before it can be recycled.
"We are extremely honoured with this prize and happy that the German Packaging Award jury noticed the unique qualities of Nefab EdgePak Straw," said Sebastian Wachauf-Tautermann, vice president of Sales and Marketing at Europe Nefab Group. "We are also grateful to our LiB customers with whom we collaborated to develop this innovative solution that addresses two of the biggest challenges: the growing need for sustainability and cost reductions across the entire supply chain."
We spoke to Maria Wahlgren from Huhtamaki about the contribution of fibre packaging to sustainability challenges facing the food industry. The company is a vocal proponent of fibre solutions as the future of the packaging industry.
Earlier this year, Stora Enso sought to meet increasing demand for fibre packaging.