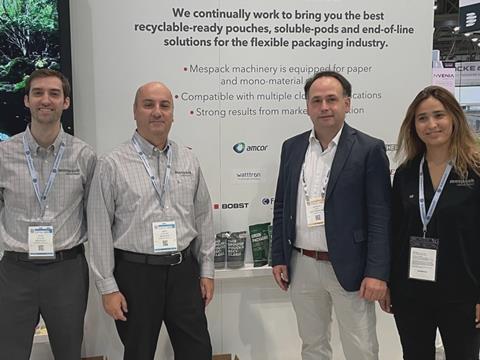 Mespack, a manufacturer of horizontal and vertical form-fill-seal machines for flexible packaging, end-of-line equipment, as well as water-soluble pods machines; and Watttron, the inventor of a heating system for industrial processes; have signed an agreement to integrate smart digital sealing technology into flexible packaging machinery.
This agreement integrates technology for both horizontal and vertical form fill and seal machines, as well as the soluble pod equipment Hydroforma series.
Watttron reports that its technology enables complicated pouch geometries, including complex irregular shapes that are highly demanded in recent times. It is suitable for pouches and mono-materials structures, which require high control and precision of the sealing temperature.
The solution reportedly facilitates energy savings of 84% compared to traditional heat-sealing systems as well as a 65% reduction in the amount of wasted pouches on mono-material laminates.
With "precise and quick" temperature control, the companies say that heat-sealing temperatures can be lowered and adjusted in significantly less time than in conventional processes, reducing both consumption and potential risks to employee safety.
This technology integrates with Athena, Mespack's digital platform, allowing it to be used to improve quality by monitoring the sealing process and ensuring that bags are sealed correctly, avoiding potential costly loss of product.
Mespack's machinery can be adapted to operate with this new technology and those machines already installed in the facilities of customers, can be retrofitted with specific modules for this purpose.
Guillem Clofent, managing director of Mespack, says: "At Mespack we could not be more satisfied than to reach agreements with pioneering companies in technology and where together we can collaborate to jointly design innovative solutions that can improve the business of our customers. Watttron, in this sense, fits perfectly with our philosophy, where we put the customer's needs first so that they can obtain perfect and efficient results in their packaging process."
Marcus Stein, managing director of Watttron, adds: "Watttron is pleased that Mespack machines are equipped with our digital sealing technology. We are sure that our collaboration will represent a turning point in the packaging industry, since it is important to be very precise and to be able to adapt to a variety of pouch formats and different types of sustainable films that need specific requirements due to their characteristics.
If you liked this article, you might also enjoy:
The L'Oréal approach to packaging sustainability
What steps is Apple taking to make its packaging more sustainable?
How did Brazil achieve its 100% aluminium can recycling rate – and can it be replicated in the EU?
Experts have their say on the EU's Packaging and Packaging Waste Directive revisions