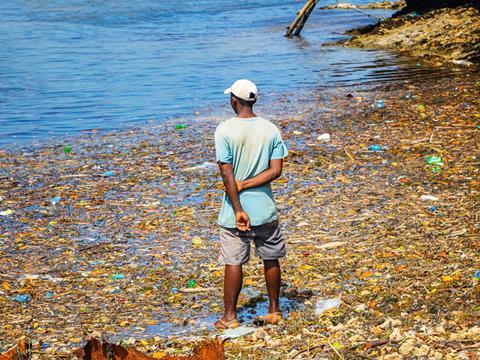 A Dalberg report commissioned by WWF warns that low-income countries could face costs as much as ten times higher than their high-income peers regarding the environmental, health, and economical impacts of plastic waste, despite consuming nearly three times less plastic per capita.
Low- and middle-income countries are estimated to spend around $150 in total lifetime costs for a kilogram, or 2.2 lbs, of plastic; this is eight times the $19 spent per kilogram in high-income countries, the report states. Low-income countries can even face costs of $200 per kilogram.
To name one example of cost imbalance, Kenya – the host country for the third round of negotiations for a UN Global Plastics Treaty – banned single-use plastic bags in 2017, yet is still dealing with illegal imports of such waste from other countries.
"Our take, make, waste plastics system is designed in a way that unfairly impacts our planet's most vulnerable and disadvantaged countries," explained Alice Ruhweza, senior director of Policy, Influence and Engagement at WWF International. "Instead of resolving the world's plastic pollution crisis in the most efficient way, the system shifts the bulk of the costs to those least equipped to manage them, with no accountability placed on those who produce and use the products in the first place. 
According to the report, three structural inequities are upholding the disproportionate burden on low- and middle-income countries. The first is their 'minimal influence' on the production and design of plastic products in conjunction.
Generally, the design of products and systems is decided by higher-income countries, where multinational companies are headquartered and/or extensive plastic production systems currently exist. Even so, it says that low- and middle-income countries are often expected to handle waste plastics at their end-of-life – and around 60% of global plastic production is currently dedicated to single-use products.
Secondly, the speed of plastic production, especially the single-use variety, is exceeding the implementation of waste management systems in low- and middle-income countries, particularly the available technical and financial resources. A reduction in plastic production and consumption is emphasized as an important facet of relieving the burden.
Additionally, the report states that there is not yet a consistent system holding countries and companies accountable for their contribution to the impacts of plastic pollution – e.g., mandatory extended producer responsibility schemes in every country. In turn, low- and middle-income countries continue to bear the brunt of high-income countries' waste.
WWF argues that a Global Plastics Treaty should introduce harmonized, binding, global rules that protect and empower countries that are currently marginalized by the system. It raises examples of introducing global design rules for reuse and recyclability and regulations for the plastics, polymers, and chemicals that threaten human health or the environment.
As another negotiation session approaches, WWF calls for a ban, phasing out, or phasing down of high-risk and avoidable plastic products, polymers, and chemicals of concern. It encourages the introduction of global requirements for product design and systems – and, within them, the uplifting of reuse and optimize recycling.
Measures should also be put in place to financially support low- and middle-income countries and align public and private financial flows in all nations, the report emphasizes.
Erin Simon, vice president and head of Plastic Waste and Business at WWF-US, said: "Ahead of the next round of negotiations, this report underscores the need for countries to choose a path forward that is guided by science and calls for global rules and requirements to curb plastic production and consumption. It is not economically, socially or environmentally sustainable to prioritize the production of single-use plastic products.
"By elevating the voices of those most impacted by plastic pollution, we will get closer to a treaty that ensures a more equitable future. Securing a truly sustainable, healthy future for humans and our planet is too important to leave up to voluntary action. Without a just transition to an equitable plastics value chain, communities in the US and around the world will continue to pay the price of inaction." 
At the beginning of 2023, the European Parliament backed a new law to ban plastic waste exports to non-OECD countries and completely phase out the export of plastic to OECD countries within four years.
More recently, the Business Coalition for Global Plastics Treaty approved a 'Zero Draft' for a Global Plastics Treaty while recommending its own priority areas for the next round of negotiations.
Riley McCormack, president and CEO of Digimarc, has also encouraged negotiators to 'seize this historic opportunity and adopt language requiring digital marking of plastic packaging in the treaty'.
If you liked this article, you might also enjoy:
The L'Oréal approach to packaging sustainability
What steps is Apple taking to make its packaging more sustainable?
How did Brazil achieve its 100% aluminium can recycling rate – and can it be replicated in the EU?
Experts have their say on the EU's Packaging and Packaging Waste Directive revisions
Also, if you're interested in packaging sustainability, you will want to attend our Sustainable Packaging Summit in Amsterdam on 14-15 November. The Summit brings together leaders and pioneers from across the industry to align strategically, learn, network, and create a critical mass to accelerate change. You can learn more by clicking here, and you can buy a ticket to attend here.