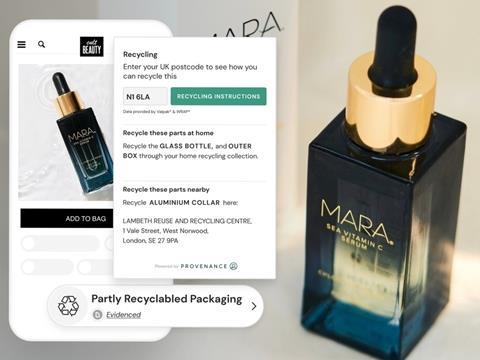 The software solutions company Provenance has partnered with Valpak and WRAP to develop the Recycle Router, a system accessible online or via QR codes on packaging that gives consumers information on how to recycle packaging tailored to their postcode.
According to Provenance, consumers can use the Recycle Router to check whether specific packaging can be recycled via kerbside collection in their local area or to locate the nearest facility that will process the packaging material.
The Recycle Router solution is currently intended for use in the UK, where almost two-thirds of people reportedly don't know what symbols on packaging, which can denote its material composition or end-of-life, mean. In addition, the UK has a number of different councils, and recycling guidelines and capacities vary between each, which can add to consumer uncertainty.
Confusion over the recyclability of products appears to be a universal challenge. For example, research from Tetra Pak and RECOUP has found that consumers favour convenience when recycling, and that clear communication and the availability of kerbside recycling is a key factor in encouraging higher recycling rates. Recycle Router could apparently begin to address this issue by eliminating guesswork and providing a one-stop solution when consumers are unsure how to dispose of packaging.
For companies, Provenance claims Recycle Router will help with "getting ahead" of the Extended Producer Responsibility (EPR) legislation, which the UK government is aiming to introduce in 2023, requiring the recyclability of all packaging to be clearly and consistently labelled. Similar policies are also rolling out across Europe as part of the EU's Waste Framework Directive, while countries including Germany, Chile and Colombia already have EPR in place.
Jessi Baker, CEO and founder of Provenance, comments: "Brands making genuine and significant investments in positive social and environmental impact, including sustainable packaging, are unable to cut through the noise of unfounded and inconsistent impact claims.
"Recycle Router allows brands to differentiate themselves at the point of purchase by claiming credit for genuine recyclability while empowering shoppers with clear, localised guidance on packaging disposal options."
Steve Gough, CEO at Valpak, adds: "We've heard from brands who want to take greater ownership of their products' post-purchase impact.
"With Provenance, we're excited to be enabling this by solving regional inconsistencies and easing shopper confusion with actionable instructions."
Recycle Router is offered as part of Provenance's portfolio of software solutions for sustainability communications and is currently being rolled out for its current brand and retail customers. Some of the brands Provenance works with include Cult Beauty and the Princes Group.
Provenance adds that it is aiming to expand a full Recycle Router solution to broader industry customers in 2022.