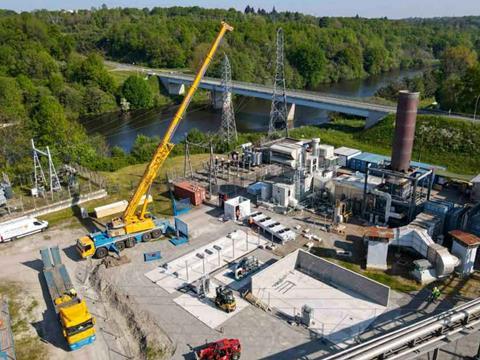 Smurfit Kappa and the HYFLEXPOWER consortium have announced that the first stage of its research project on renewable energy – the introduction of an integrated hydrogen gas turbine demonstrator – has been successfully completed at Smurfit Kappa's Saillat paper mill.
Such organisations as ENGIE Solutions, Siemens Energy, Centrax, Arttic, German Aerospace Center (DLR), and four European universities have contributed to the HYFLEXPOWER project, which aims to demonstrate the possibility of converting renewable energy into hydrogen and using it to store energy to power an industrial turbine.
The European Commission has funded two-thirds of the project's €15.2 million investment via the Horizon 2020 Framework Programme for Research and Innovation. In light of the underlined importance of hydrogen in the European Green Deal's pursuit of carbon neutrality and a green energy transition, the original hydrogen pilot took place last month, utilising a mix of 30% hydrogen and 70% natural gas.
With the next trials scheduled for spring 2023, it is hoped that further testing will bring the hydrogen ratio up to 100% this year.
"We are focused on reducing our emissions with the best available technology today," said Garrett Quinn, chief sustainability officer at Smurfit Kappa, "but equally this announcement demonstrates how we are focused on looking beyond 2030 and trialling new technology, such as hydrogen, today.
"This project will allow us and our partners to understand the technical feasibility of using hydrogen with a lot of our existing energy infrastructure. This is an exciting project for us, and industry in general, as we progress on our journey towards net zero."
Dr. Ertan Yilmaz, HYFLEXPOWER global director at Siemens Energy, commented: "With the HYFLEXPOWER project we are showcasing that carbon-neutral and reliable power supply is possible – even for energy-intensive industries. Hydrogen-ready turbines will play a decisive role in climate-neutral energy, so it is very exciting to be looking forward to the next phase of testing."
"Hydrogen will play a crucial role in the interaction between renewables and electricity storage and generation," added Gaël Carayon, Director of Subsidiaries at ENGIE Solutions. "ENGIE Solutions is proud to participate in this unique project."
Absolut Vodka has made an agreement with Ardagh Group to facilitate the large-scale production of its vodka bottles at a partly hydrogen energy-fired glass furnace, aiming to replace 20% of the natural gas used to power its furnaces with green hydrogen.
Additionally, Perstorp's recent investment in a project to supply its Stenungsund plant with wastewater from a nearby municipal treatment plant is hoped to contribute towards the production of renewable hydrogen via electrolysis.