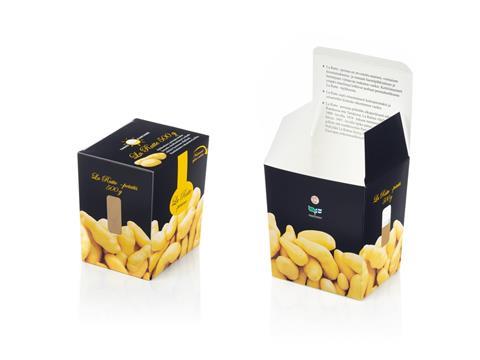 Finnish potato processing company Tuorekartano Oy has announced that its premium La Ratte potatoes will now be available in what it claims is recyclable and biodegradable paperboard packaging.
The paperboard packaging was developed for Tuorekartano Oy by Metsä Board, part of Metsä Group. It is reportedly made of fresh fibres to produce a lightweight paperboard that is "easily" recycled and suitable for home composting.
In addition, the Metsä Board is suitable for direct food contact, according to the companies. The dispersion coating of the board apparently improves its moisture and grease resistance for food contact applications.
Kari Kastari, CEO of Tuorekartano Oy, comments: "Tuorekartano is a company committed to Agenda 2030 and Commitment 2050 and has set itself clear sustainability targets.
"Plastic-free packaging, such as La Ratte cartons, is part of these goals. We have already reduced the amount of plastic in our packaging materials by 25%."
Kalle Hurttila, production director at Hurtti-Paino Oy, the producer of the La Ratte packaging, adds: "It is important that the materials we use are recyclable and suitable for food contact.
"Metsä Board's paperboard meets our requirements both in terms of the environment and providing excellent printability."
Within the food and beverage segment, Metsä Board has also recently collaborated with the Paper Lid Company on a recyclable paperboard lid made from dispersion barrier board.
Meanwhile, paper-based packaging for potatoes appears to be an expanding area of interest for produce and packaging companies alike. This year, Root Zero launched what it claimed at the time was the UK's first carbon neutral potatoes, enabled by its paper bag packaging, while Mondi has developed a compostable, paper-based pack for SILBO and Tesco Ireland trialled recyclable, paper-based bags for its new season potatoes.