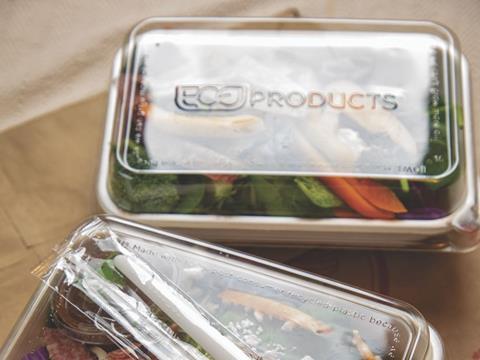 Eco-Products adds seven new items to its Vanguard portfolio, a line of containers for foodservice applications made from sugarcane and without chemicals of high concern.
According to the company, the Vanguard technology involves using plant-based sugarcane fibres for foodservice containers. It uses a propriety chemistry to achieve grease resistance without the use of PFAS, which is considered a chemical of high concern, or other regrettable substitutes – earning the Vanguard range the GreenScreen Certified Silver designation.
The Vanguard formulation will be integrated with Eco-Products' WorldView line of to-go containers as part of the expansion. The new line will include a variety of bowls and containers in different sizes, including round, oval, square, and rectangle, while some will also have compartments.
Additionally, Eco-Products claims that the WorldView line of containers are microwaveable and can be frozen, while their modulated construction apparently offers both strength and style to customers.
The new WorldView bases are certified by the Biodegradable Products Institute (BPI) as compostable in commercial facilities.
Eco-Products also offers three types of lids to fit the compostable bases. This includes sugarcane lids that are apparently ASTM D6868 complaint for composability, PLA lids that are also BPI-certified, and lids made with 100% post-consumer recycled PET that are not compostable or recyclable.
Ian Jacobson, president at Eco-Products, comments: "Demand for to-go containers skyrocketed over the past year, so this is a much-needed expansion.
"It offers more choices for our customers and demonstrates our continued leadership and innovation in foodservice packaging."