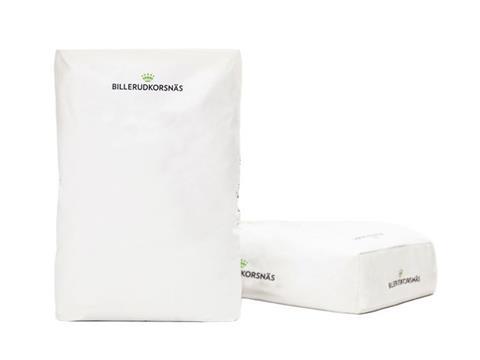 Performance White Barrier is a new sack paper from BillerudKorsnäs, where a coating replaces the plastic film barrier commonly found in paper sacks.
According to the company, the new sack paper is on par with traditional alternatives regarding shelf-life expectancy and other performance factors. It can also reportedly be recycled in regular paper streams, has a printing surface for branding and product content display and apparently causes "no need for any changes in the supply chain."
It is the view of BillerudKorsnäs that Performance White Barrier can replace most slit and perforated plastic films without significant changes in shelf-life performance, and that it is suited for use in a wide variety of sack paper applications including animal feed, building materials, chemical substances, dry food, and mineral products.
"Both surveys and customer insights show that sustainable packaging is still high on the agenda, driven by consumer preferences," says Armin van Overbeek, vice president of BillerudKorsnäs' sack and kraft paper business area.
"With Performance White Barrier, we take another step to replace plastic in packaging. What might initially appear as an invisible advantage, as you cannot see the absence of the plastic barrier, becomes clear in the next phase – when somebody is about to recycle a sack or check the sustainability report for a company's initiatives to reduce their carbon footprint."
According to Eurostat statistics about actual recycling rates in the EU, 8 out of 10 people recycle their paper and cardboard packaging compared to 4 out of 10 for plastic packaging. The company says that the high recycling rate for paper is important for the environment, but also contributes to higher financial margins for companies as taxes on non-recyclable packaging can be high.
It goes on to claim that Performance White Barrier is "easy for converters to process", and that no changes are needed in sack production equipment. Performance factors such as sack strength, handling and filling rates apparently remain the same, which in the company's view means that switching from conventional 3-layer sack construction with plastic film to the new 2-layer paper sack is a smooth process.