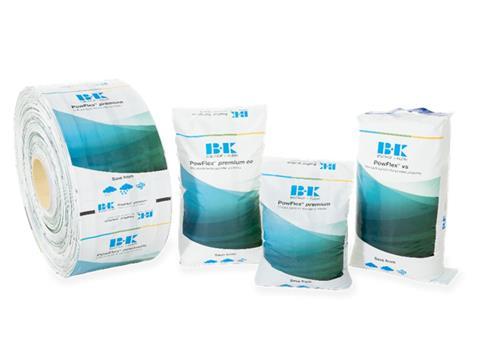 What are the advantages of packaging powdered products with plastic instead of with paper? With its webinar hosted by Packaging Europe, focusing on this question,, Bischof + Klein attracted around 700 interested participants across the globe. We take a look back at the event.
Representatives of the construction material, chemicals and foodstuff industries, in particular, wanted to find out more about the "highly-ventilatable and sift-proof" B+K PowFlex® branded packaging.
B+K PowFlex® ffs is a globally established standard for form, fill and seal for powdered products. It is described as equally suitable for construction materials such as cement and tile adhesives as for foodstuffs such as flour and starch. The evolutionary B+K PowFlex® ffs easy opening (eo) additionally allows the sack to be opened and resealed without any aids, making it safer to use for workers a they don't have to use knives or similar tools. The B+K PowFlex® vs (valve sack) variant can be an alternative to paper valve sacks with an intermediate layer of film.
In each case, B+K PowFlex® is made of 100 percent PE and is recyclable. B+K PowFlex® ffs can also be manufactured with up to 50 percent PCR (post-consumer recyclate). A B+K PowFlex® vs variant with up to 30 percent PCR will be available shortly.
The fact that the industry is insisting on an alternative to paper sacks became clear during the discussion with the participants. Erik Niehaus, head of sales within the Industrial Packaging Business Unit, Karsten Wamhoff, head of international overseas & export business, and research engineer Frank Heermann answered a number of specific questions concerning matters such as filling technology, for instance. B+K PowFlex® vs can be filled on existing lines for paper sacks. No extensive investment is necessary for this. The aspect of food suitability was also addressed. All B+K PowFlex® packaging solutions can be designed so that they are food-safe.
"On the whole, we were impressed by the high level of interest in our PE packaging solutions and made some new contacts", reported product manager Timm Strübbe, who organised the webinar.