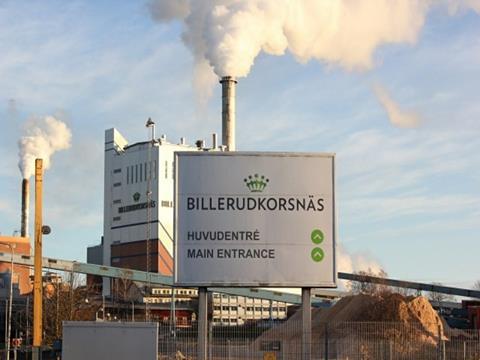 BillerudKorsnäs has entered a merger agreement to acquire Verso Corporation, a leading producer of coated papers in North America, for a purchase price of approximately USD$825 million in cash, with the transaction expected to close in the second quarter of 2022.
BillerudKorsnäs says that it intends to build a cost-effective and sustainable paperboard platform in North America by converting some of Verso's assets into paperboard machines with an estimated capex of up to SEK 9 billion, while maintaining its position as "quality and cost leader" in speciality and coated woodfree paper.
The company adds that Verso's strategic assets are located in a region with an abundant and cost-effective fibre supply suitable for the production of premium packaging materials, as well as favourable export opportunities to both Asia and Europe.
The acquisition will reportedly see the combined company become one of the largest providers of virgin fibre paper and packaging.
Christoph Michalski, president and CEO of BillerudKorsnäs, comments: "The combination of BillerudKorsnäs' expertise in high-quality virgin fibre packaging materials and Verso's attractive assets creates an excellent platform for long-term profitable growth.
"We will obtain cost-effective production of coated virgin fibre material in the Midwestern United States. We also plan to sequentially transform part of the business into paperboard production while continuing to serve the US customers.
"Our investments will create new US-based jobs in a growing market and accelerate the transition from plastic-based packaging materials to renewable sources."
BillerudKorsnäs' plans for the merger include converting Verso's largest facility, its Escanaba mill, into a world-class, sustainable, and fully integrated paperboard production site. Two machines are expected to be converted, by 2025 and 2029 respectively, to a total capacity of around 1,100 ktonnes.
The company estimates that the investment for the conversion project will be up to SEK 9 billion, with two thirds to be invested up to 2025 and the remainder up to 2029. According to BillerudKorsnäs, the increased net capacity of around 400 ktonnes compared to today, alongside a more profitable product mix, will create significant shareholder value over time.
BillerudKorsnäs adds that it plans to continue operating Verso's Quinnesec mill, which has an annual capacity of around 400 ktonnes of paper and 200 ktonnes of market pulp. This site is apparently the cost and quality leader in graphical paper, specifically in coated woodfree and speciality papers.
A special meeting of Verso's shareholders is expected to take place following the mailing to Verso's shareholders of a proxy statement for the transaction. Verso's Board of Directors, acting upon the recommendation of a special committee, has unanimously approved and resolved to recommend the transaction to Verso's shareholders.
The transaction remains subject to the approval of Verso's shareholders, as well as receipt of applicable regulatory approvals and satisfaction of other customary closing conditions. Closing of the transaction is not subject to any financing condition.
BillerudKorsnäs has recently launched new materials including FibreForm, a collaboration with Aisa, which allegedly keeps its shape when squeezed, making it a suitable replacement for plastics on tube shoulders and sleeves, as well as two new low grammages of its flagship cartonboard product particularly suited for the graphical industry.