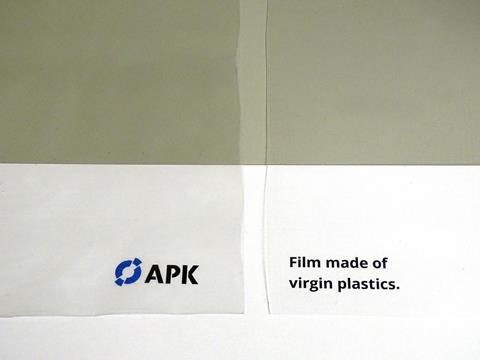 APK AG says it has been able to obtain high-quality, pure plastic LDPE recyclate from mixed consumer waste using its Newcycling technology, which it adds is successful on an industrial scale.
Over the course of 2021, APK implemented an industrial-scale production campaign in several phases of its Merseburg recycling plant. The input material used with the Newcycling technology was post-consumer film waste from household collections.
According to the company, the first phase generated "excellent" results in terms of problem-free processing, yield, and mechanical values of the recyclate.
During a subsequent intermediate laboratory phase, the process parameters were refined with decolourisation in mind. The new parameters were implemented successfully in November 2021 as part of the second phase of the campaign, with the analysis of materials obtained reportedly revealing high colour and transparency values.
Klaus Wohnig, CEO of APK AG, comments: "We were able to prove that our Newcycling-technology can successfully recycle household plastic waste, and do so on an industrial scale.
"We were able to fully achieve the ambitious goals we had set for scaling and decolourisation."
Dr Jürgen Flesch, APK board member who oversees production and technology, adds: "We were able to obtain a light-coloured LDPE-recyclate from mixed, flexible household waste, which was then processed into a film.
"The L value of our 'campaign film' is close to that of films produced from virgin plastics."
APK is aiming to meet the demand for high-quality recycled plastics, which it says is in "greater demand than ever", especially in the packaging segment. The Newcycling campaign is part of its wider expansion and, alongside partners from the plastics value chain, the company has plans to establish new plants over the coming years.
According to Maik Pusch, director of corporate development at APK AG: "Proof of concept is an important step on our pathway to building new Newcycling plants."
In 2020, Huhtamaki successfully incorporated APK AG's LDPE recyclate into its laminated tubes, with the collaboration geared at making LDPE recyclates based on post-consumer waste and compliant for food contact available on the European market.