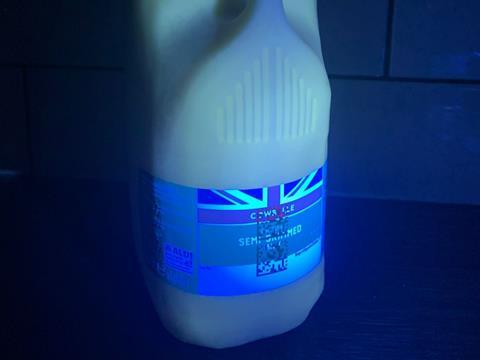 Aldi has partnered with Polytag to trial invisible UV tags on its packaging with the goal of capturing recycling data and bolstering traceability throughout its supply chain.
Starting in July 2023, the trial will see the Biffa Teeside recycling centre utilise unique readers to gather real-time recycling data on an item level. This UV reading technology was developed by Polytag in collaboration with researchers at the Advanced Manufacturing Research Centre.
By providing Aldi with access to information surrounding the life cycle of its packaging, it is hoped that the retailer will be able to more accurately gauge its progress towards its sustainability targets, such as a 50% reduction in its carbon footprint by 2025.
"Leading retailers in the UK are awake to the fact that the only way we will truly tackle the waste problem in this country is by using data," said Alice Rackley, Polytag's CEO. "Gaining access to real-time packaging lifecycle information will be a game-changer, enabling retailers to develop a greater understanding of their products' journey and make meaningful progress towards their sustainability pledges."
Luke Emery, plastics and packaging director at Aldi UK, added: "We are constantly working to be a more sustainable retailer, so we are excited to see how Polytag's technology will enable us to access and analyse more data around our packaging lifecycles, and use these learnings to accelerate our progress towards our sustainability goals."
Polytag has also collaborated with Co-op to implement UV tags and unique-every-time QR codes into its own-label, two-litre PET spring water bottles in a bid to increase visibility during the recycling process and contribute towards the establishment of a Digital Deposit Return Scheme.
In other news, researchers from MIT have applied biodegradable tags directly to seeds that claim to provide a unique, randomly created code – a development seeking to prevent counterfeit seeds with low germination rates from being sold.
If you liked this article, you might also enjoy:
McDonald's Director of Sustainability in Europe on the company's approach to packaging sustainability
McKinsey on whether or not on-pack sustainability claims affect consumer spending
Perspectives from industry-leading experts on the EU's Packaging and Packaging Waste Directive revisions
A deep dive into the most important packaging sustainability trends and solutions