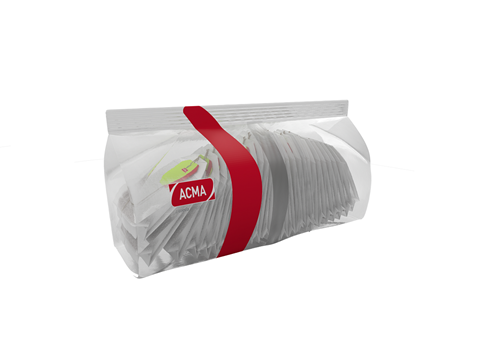 ACMA, also keep updating its portfolio of stand-alone machines for the primary packaging, which is based on four types of solutions. TD 300 is the company's latest addition to create double chamber bags with string and double knot tag, capable of reaching 300 bags/minute, made without using glue and staples. TE 500 is the high-performing machine (500 bpm) for heat sealed double chamber with string and tag, while TM 320 – a true "best-seller" on the market - is dedicated to high-speed packaging of heat-sealed bags with string and tag, capable of working with a wider size range than any other machine on the field.
Lastly, TL 180 processes whole tea leaves with single chamber with string and tags at low speed (180 bpm). ACMA machines that produce heat-sealed bags can operate recyclable and biodegradable materials, such as PLA, in order to guarantee a product with a low environmental impact. Another strength of the ACMA portfolio is the capacity of ensuring the perfect type of processing based on the different types of tea and herbal tea blend - including those with high sugar content, thanks to the dosing units designed by the company.
The value of innovation
Finally, the company is also investing in the study of new shapes of tea bags, leveraging on the support of its corporate. In fact, being part of Coesia Group, ACMA R&D department benefits from a wide knowledge in packaging machineries as well as in industrial process solutions from different industries (Food, Personal & Home Care, Beverages and Tobacco). The Group represents a great advantage in terms of new product development, where tea customer and ACMA can build a successful business case together.
More info: