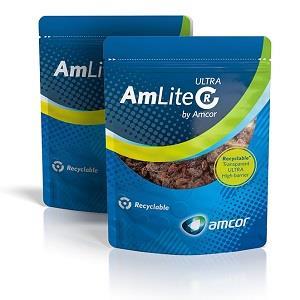 New research conducted by Amcor reveals the differences in European consumer attitudes to buying grocery products online.
The research surveyed 1,000 online grocery shoppers across France, UK, Germany, the Netherlands, and Sweden, to study their buying preferences and understand wider e-commerce trends in Europe. For brands and food producers, Amcor argues that this research represents a valuable insight into varying preferences for fresh produce, meat, and dairy deliveries, and what measures brands can take to ensure the freshness and quality consumers are demanding from online shopping.
Key highlights from Amcor's consumer research include:
UK consumers show a much stronger willingness to buy fresh food online
UK consumers set themselves apart from their European neighbours in their willingness to buy fresh food online. Most (69%) say they buy the same amount of food, or more, online than in-store – compared to only 30% of Europeans in other countries. The top reason shoppers gave for buying more online was convenience. They perceived a time saving, as well as noting the ease of delivery versus having to carry groceries home.
Ensuring quality and food waste reduction are important for online shoppers
Amcor says that the research also revealed why consumers in other European nations may not be embracing online purchases of fresh food to the same degree as the UK. This is largely because of concerns about freshness – 61% of European shoppers prefer to see and test fresh produce before buying it.
Specifically, 78% of French shoppers want to physically check the quality of fresh produce before they buy whilst 77% of Germans prefer to buy produce from stores daily to avoid food waste.
Food subscriptions are booming – particularly in the Netherlands
Food subscriptions are increasing in popularity across Europe. Dutch shoppers lead the trend, saying they subscribe to fruit and veg deliveries (36%), coffee deliveries (36%), and snack subscriptions (34%). Across the rest of Europe just over a quarter (26%) of respondents in Britain, Sweden and the Netherlands say they have used a meal kit subscription.
Europeans are united by their love of a morning coffee, with 20-34% of all respondents subscribing to fresh coffee deliveries.
Dairy and chilled desserts are popular with online shoppers across Europe
According to the research, the most popular fresh food category for online purchase is dairy, with 65% of shoppers buying cheese online, and 61% buying yogurt and chilled desserts. After dairy, fruit, and vegetables are some of the most common items to buy online (54%), and the most popular option for food subscriptions. But this only applies to whole produce.
Meanwhile, pre-packed vegetables and pre-cut fruit are apparently a less popular option, at 36% and 22% respectively. European shoppers might enjoy having fresh fruit and vegetable delivered to their door, but they'll do the chopping themselves.
The biggest packaging consideration for consumers is sustainability – which is the primary packaging requirement for 65% of consumers.
Recyclable packaging was the primary sustainability attribute online shoppers look for. Amcor's research showed that over a third of online consumers believe packaging recyclability to be very important to them. Furthermore, 13% of online shoppers cited a lack of packaging information available online, highlighting an opportunity for e-retailers to add sustainability information.
Chris Fesen, Marketing Director, Food at Amcor commented: "E-commerce purchases for fresh food are increasing, and food producers can adapt to take advantage of this emerging market. However, many consumers are still concerned about freshness and food waste – in a brick-and-mortar store, shoppers can visibly check the freshness of produce, meat, and dairy but this is more difficult with home delivery. Brands should opt for packaging that keeps food safe and fresh in transit and displays this freshness to re-assure customers.
"To meet sustainability goals, it's vital for fresh food brands to balance the use of more sustainable, recyclable materials, with packaging that continues to extend shelf life and avoid food waste."
The full study can be read here.