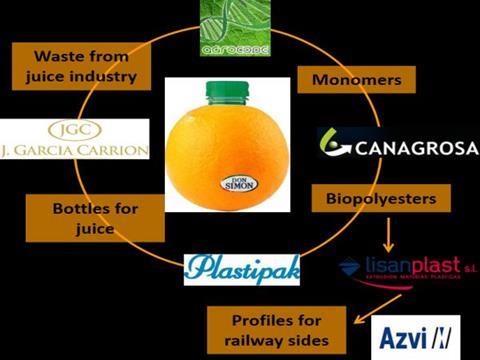 Conclusions
In the trials conducted so far, it has been found that the commercial PBS grades currently available do not have the properties appropriate for their transformation by injection stretch blow moulding to obtain bottles.
AIMPLAS has successfully developed injected bottles from PBS compounds with a good balance between their mechanical properties (compression and impact strength), transparency and processability in conventional lines designed to obtain PET bottles.
The bottles, with a capacity of 500ml, obtained in a pilot plant line, show that such PBS compounds will be suitable for obtaining bottles in clients' facilities by using their current technology in which they produce orange juice bottles with the same capacity. Scale-up of the process will be carried out in the coming months before the project ends. These results will allow PLASTIPAK to be the first company in introducing on the market a bottle made from PBS and gain leading positions in the European market as a company manufacturing biodegradable and compostable packages for juice, in particular in the national market.
More info: