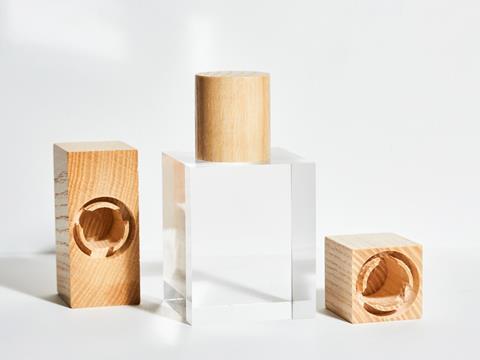 International beauty packaging manufacturer and provider Quadpack has unveiled Woodacity – a new range of closure systems for fragrance packs, each cap crafted from a single piece of sustainably-sourced wood.
"Our experts have effectively mechanised wood," said Quadpack's head of categories, Pierre-Antoine Henry. "Woodacity elevates this natural material beyond the aesthetic, to become a fully-functional component of a beauty packaging solution. This full-wood innovation is the first of its kind, bringing sustainable added value to beauty brands."
Quadpack claims that its new closure solutions offer the same functional properties and stability as plastic, along with the qualities of wood. In addition, the designs of the products obviate the need for a plastic insert, making them mono-material structures.
Three systems are available, all made in Europe at the Quadpack Wood factory, using wood sourced from what the company describes as "sustainably managed forests." 'Solo Snap' is a globally patented snap-on cap, with a unique pattern of interior ribs and a secure 'click' closure. Meanwhile, 'Solo Push' is a friction-fit cap that closes the pack with a smooth push gesture.
The last member of the range, Solo Turn, is a thread cap with a screw closure, which matches with Quadpack's Regula Glass jar, also made in Europe.
Woodacity was conceived following a two-year research and development project to turn wooden fragrance caps into working packaging components. A team of designers, engineers, and technicians investigated the material in different conditions, shapes, and combinations at Quadpack Wood, to achieve the first three closure systems available today. The company says that more variants are currently under development.