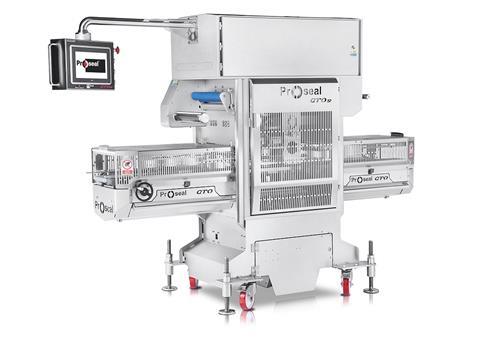 A new Quick Release Cartridge Tool to help companies minimise unplanned downtime will be launched by leading tray sealer manufacturer Proseal at this year's Fruit Logistica. In addition, the company will showcase latest models from its comprehensive tray sealer range that help fruit growers maximise pack quality and throughput while lowering costs.
The Proseal QR Cartridge Tool enables any tool to be quickly and easily removed and replaced in the event of a problem. All the elements that might need attention are contained within the cartridge, meaning repairs and adjustments can be carried out offline while the tray sealer continues to operate, thus ensuring that downtime is minimised and overall throughput maintained.
The QR Cartridge joins Proseal's existing QR Conveyor, which features a modular design that allows individual sections of the infeed and outfeed conveyors to be removed for maintenance and cleaning.
The flexibility of the Proseal tray sealer range to meet different production requirements is ideally demonstrated by the two models on display. Both the GT0S and GT4S feature compact space-saving designs with high throughput and rapid tool changes. The GT0S is capable of sealing up to 80 atmospheric packs per minute on a three impression tool, while the GT4S can reach speeds of up to 210 atmospheric packs per minute with an eight impression tool.
The S specification machines have been designed for customers with more uniform pack requirements, offering atmospheric, gas flushing and hermetic shrink sealing. For companies needing to switch frequently between different pack types, E version models are also available with additional sealing choices.
The machines feature a rugged and hygienic food industry approved construction with washdown protection. A user-friendly menu driven control panel with step-by-step prompts, error and status displays, and batch pack counter ensures ease of set-up.
More info: