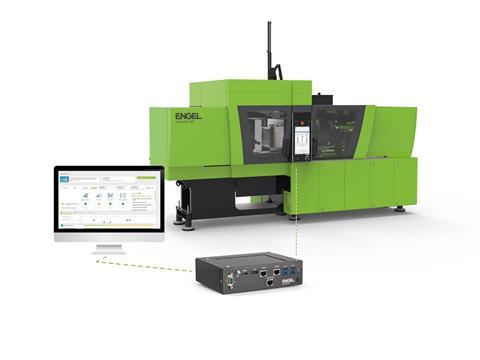 At the K 2019 trade fair in Düsseldorf, Germany, between October 16th and 23rd, ENGEL is starting a completely new chapter in the development of intelligent assistance with its iQ process observer.
To date, assistance systems have been used to optimise individual steps in the injection moulding process, such as injection and cooling. But the new iQ process observer goes several steps further, providing an overview of the entire process for the whole batch. This makes it possible to identify changes in the process at an early stage, allowing operators to determine their causes and find a solution more quickly.
The iQ process observer continually analyses several hundred process parameters across all four phases of the injection moulding process – plasticising, injection, cooling and demoulding. The results, split into the four phases, are immediately visible in an easy-to-understand overview on both the injection moulding machine's CC300 control unit and the ENGEL e-connect customer portal. Maximising the potential for efficiency and quality
The software automatically detects drifts by continually checking the results against the previous cycles, as well as comparing certain process parameters with a set reference condition. Furthermore, the system notifies the machine operator of counterproductive process settings and conditions, in addition to possible causes via text message. This helps the user to optimise their processes and, when necessary, to resolve errors. All the functions run automatically. The iQ process observer requires zero set-up effort to use. "By using the iQ process observer, process technicians can maximise the potential for efficiency and quality offered by the injection moulding machine and production cell," says Paul Kapeller, product manager for digital solutions at ENGEL AUSTRIA. "The iQ process observer is currently the only assistance system on the market based on live data, which actively indicates changes in the process and counterproductive settings, helping to improve stability throughout the process." Modular approach paves the way for smart factory
Permanent adaptation of quality-relevant process parameters based on real-time data is an essential feature of the smart factory. In this spirit, by offering the strictly modular approach of its inject 4.0 range, ENGEL is making it particularly easy for processors to benefit from the opportunities presented by ongoing digitalisation. Even individual solutions such as the iQ products promise considerable benefits. And it is thanks to these same solutions that the first steps towards the smart factory are being taken on many shop floors.
ENGEL will be at K 2019 in hall 15, stand C58