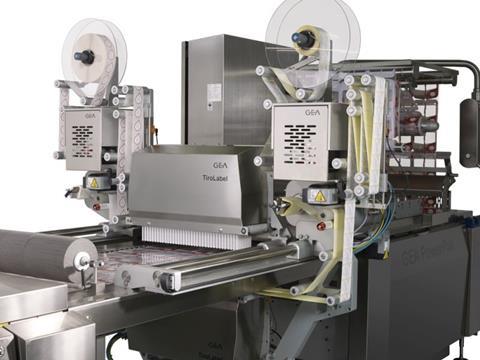 It goes without saying that any efficient packaging system needs to include a labeller that can keep pace with even the highest demands. This is why GEA has undergone its labelling and printing segment a lot of further developments increasing labelling speed and accuracy.
With the new generation of its TiroLabel labelling system GEA is the only supplier to use a motor-driven positioning unit with spring-loaded pins for its top and bottom labelers. This ensures that fluctuations in air pressure have no effect on label placement. The advantages are obvious: for one, the machines run more smoothly. For another, the labels are applied to the product with care and with process reliability. This has increased labelling speeds by up to 25 percent. The new set-up has significantly improved user friendliness and made the labelers easier to maintain.
More options provide effective process
The labellers are operated via a new, separate 10" touch panel with integrated printer controller. Likewise, the printers of the labellers are now also available with an integrated touch panel. Another optional setting is "no product – no label", which ensures that empty packs are not labelled, thus conserving resources while labelling. For operations without machine stops, a "no downtime" setting is provided with two independent top or bottom labellers, which automatically switch over during label changes to prevent downtimes caused by label changes. The "twin labeller" has been designed to carry out high-performance operations in the smallest space; two labellers that are coupled together for labelling at twice the speed.
Labeler suitable for GEA thermoformer series
GEA TiroLabel could be integrated in GEA thermoformers. For every need and performance category in the food packaging sector the technology group offers two series. GEA PowerPak is a highly configurable and capable packaging machine for production lines with a high throughput or frequently changing products. For small production quantities and infrequent product changes, GEA DeltaPak provides now an economical alternative as well. This packaging machine had its world premiere during interpack 2017 in Düsseldorf and simplifies taking the step from manual to automatic packaging systems. GEA DeltaPak is a compact machine for standard packs in small- to medium size batches, and it covers a wide spectrum of applications, including vacuum packages and MAP. It also runs flexible film as well as rigid film. Because flexibility is a key consideration for this type of machine, it is designed for fast and easy configuration, including die set change-over. Due to a defined basic structure, a defined range of functions and a selected equipment range, a GEA DeltaPak thermoformer adapted to the requirements of the customer can be provided quickly.
More info: