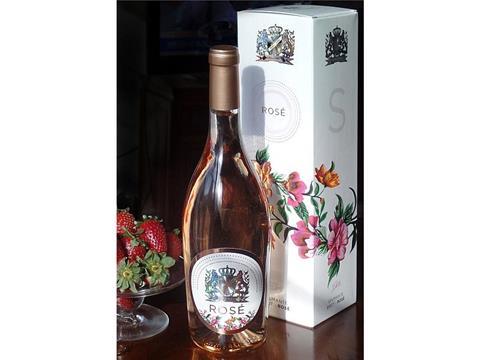 A new recyclable folding carton featuring advanced brand enhancement technology, has been launched by specialist Fresnels Inc.
First shown at Luxepack Monaco in October 2018, the design features innovative dynamic nanotechnology decorative elements, developed specifically to catch the eye and interact with customers in the retail drinks environment.
Incorporating enhanced levels of security features for added brand protection, the box has been produced from FSC certified paper over printed with a floral design before a clear, optically variable Peacock™ foil is applied via heated blind embossing. This ensures perfect register between the raised leaves and petals and the green to gold colour transformation imparted by the foil.
The same foil is also used directly on the white paper to create the letters ROSE - textured dies create an engraved effect to the lettering while adding security to the box - before a digitally created crest, using proprietary Cellini™ technology, is applied using silver metallized stamping foil.
The new Fresnels technology meets the demand for eco-friendly packaging that can be recycled and is produced using manufacturing processes, which have minimum energy demands and environmental impact.
Foil technology is used to provide improved recyclability when compared with plastic laminates, while advanced digital origination technology allows covert markers and data to be incorporated into the packaging surfaces. These include Level 2 and 3 covert security features that can only be detected via hand held devices or forensic examination.
Dr Glenn Wood, COO of Fresnels Inc, said: "We are seeing mechanically produced fresnel lens effects as fascinating additions to packaging. However, the real prize is digitally produced images offering graphic designers much greater scope for creativity. We have also been successful in manufacturing these images as hot stamping foils suitable for high speed application to paper substrates."
Fresnel Inc. President John Jones, said: "CELLINI™ has the appearance of moulded metal. It engages the eye and the touch by its raised appearance which renders the embossing of paper or carton unnecessary."
Cellini™ and Peacock™ effects can also be supplied in label format to co-ordinate with the cartons. With headquarters in Connecticut, USA, Fresnels Inc. specialises in the commercialisation of optical microstructures and provides brand owners with high visibility packaging with dynamic effects, which are eco-friendly, highly secure and yet highly cost effective.