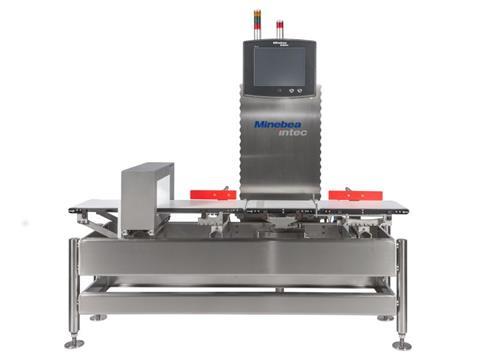 Since the launch of the checkweigher Flexus last year, the hygienic design features for the food industry have been systematically enhanced.
The new Flexus Highspeed from Minebea Intec features hygienic design right down to the finest detail, and also offers faster processing speeds. The in-line checkweigher now reliably checks the weight of small packaged foods such as tinned fish, yoghurt or snacks at high speed.
Along production lines, checkweighers can often slow down the speed of production and therefore reduce its efficiency. Flexus Highspeed offers processing speeds of up to 2.6 m/s, opening up new possibilities in the food industry in terms of economy. "The success of our in-line checkweigher Flexus has shown us that hygienic design is right at the cutting edge. Therefore, when optimising the hygienic design of Flexus, it was clear that we needed to consider both product innovation and product diversification," explains Stefanie Dahmen, Product Manager Inspection at Minebea Intec, "The new Flexus Highspeed is our response to the demand for a checkweigher specifically for weighing smaller products quickly. We are anticipating high demand in the 1 kg weighing range, and higher speeds in the weighing range up to 7 kg are of course also possible."
Faster processing speeds, shorter cleaning times
All checkweighers in the Flexus range have been consistently developed according to the EHEDG hygienic design guidelines, in order to comply with the strict hygiene standards in the food industry. As a result, contact surfaces and horizontal surfaces have been minimised, and the need for hollowed sections has been eliminated due the open frame. Together with the increased floor clearance, hygienic feet and a hygienic box for the pneumatics, the checkweighers thus guarantee straightforward inspection and quick and reliable cleaning. The resulting shorter cleaning times offer additional potential in terms of economy and efficiency.
Configurable for a wide range of applications
Flexus doesn't just stand for hygienic design: the checkweighers also offer a wealth of configuration options that provide greater flexibility. This means, for example, that it is easy to attach additional modules to the sturdy construction's upper frame. For optimal inspection in limited space, there is the Flexus Combi with integrated Vistus metal detection technology. There is also a comprehensive selection of separators and a wide range of data interfaces for seamless integration into any IT landscape.
More info: