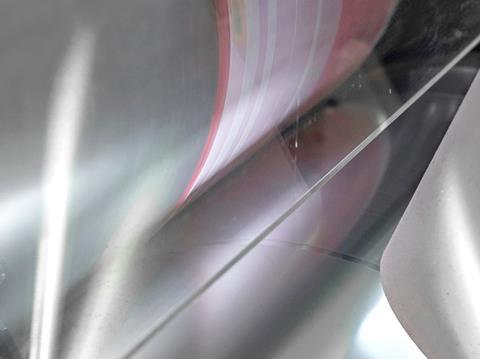 Labelexpo Europe in Brussels sees the announcement of the BOBST M8, a high speed, highly automated print production and finishing system for flexible packaging and related work.
Previous Labelexpo Europe shows have been prime venues for BOBST to première some of its most innovative technologies, so news that the company was keeping details of a brand new development under wraps right up to the show opening night, sent the industry buzzing with anticipation.
The announcement was certainly worth the wait. The new BOBST M8 line is a multi-process, multi-web inline printing and converting machine. For the first time, users are offered the advances - and the advantages - of BOBST's unique Digital Flexo technology on a machine with web widths up to 1070 mm and speeds up to 400 m/min. BOBST Digital Flexo features include complete digital control of the press, with camera-monitored closed loop press operations that enable fully automated pre-register and adjustment of the print pressure and register, and camera-based print quality/PDF comparisons at all speeds.
"These capabilities will have momentous effects on today's market dynamics, with their golden rule of diversify to succeed," says Matteo Cardinotti, Managing Director of Bobst Firenze and Head of Narrow & mid-web multi-process Product Line. "Most printing companies today know they need to diversify in order to grow or even maintain revenue streams, and many label printers have been adding equipment to produce short run customized packaging to complement their revenue. The new BOBST M8 press is uniquely suited to forward-thinking label printing companies that want to move into the flexible packaging market in a way that exceeds contingency needs to allow strong and sustainable growth in this sector."
Important to users is the total flexibility the press offers in terms of substrates, consumables and applications, being able to run UV, water-based or solvent-based inks. Alongside digital control and total color consistency, the M8 delivers automatic on-the-fly job changeover sequences and up to 95% press uptime. These distinctive features enable the press to operate profitably with all run lengths, including just-in-time orders. Also truly remarkable is the spectrum of substrates handled by the press, which basically includes all types used in packaging reel-to-reel printing: film, aluminum foil, lamitubes and paper. The cardboard version of the M8 can handle substrates up to 600 gsm.
The official unveiling of the M8 line, which joins the BOBST M5 and M6 solutions to complete the range, will take place at Labelexpo Europe on BOBST stand A59 in Hall 3 on Monday 25 September at 4:30 p.m.
More info: