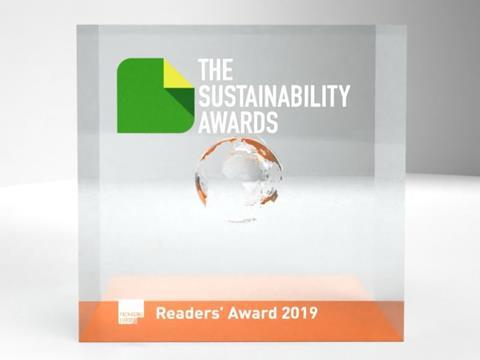 At last night's Sustainability Awards we unveiled the winner of our first-ever Readers' Award. Congratulations to Nestlé, which came away with the prize for its YES! Snack bars.
The snack bars were recently launched in a new recyclable paper wrapper for what the company says is the first time a confectionery bar has been packaged in paper using a high-speed flow wrap technology.
We were delighted with the range of nominations we received from our readers, which threw the spotlight on some unexpected innovations and once again demonstrated the breadth of the sustainability efforts across the packaging industry.
Pioneering paper-based confectionery packaging
The technology used to wrap these bars is significant because it has unlocked the potential for recyclable paper packaging to be widely used in the confectionery industry. Up until now, high-speed production of shelf-stable snacks was only achieved using plastic films and laminates.
The company said that one of the big challenges was to run paper packaging at high speed on existing machinery, and 300-bars-per-minute was achieved. The new packaging also is said to guarantee a standard shelf life of nine months. The paper barrier manages to keep the product fresh. Proper sealing was the third challenge that has been achieved.
The runners-up
While Nestlé's innovation addressed the challenge of replacing plastics with paper, our other two finalists approached the question of sustainability from different angles.
A joint effort between Mondi, Werner & Mertz, EPEA Switzerland (Cradle to Cradle®), Der Grüne Punkt – Duales System Deutschland and Institut cyclos-HTP developed a 100 per cent recyclable pouch with detachable decorative panels. It was was reverse-engineered to create a pack that is fit for every stage of the process and facilitate correct sorting. The packaging needed to be made of a polyethylene mono-material in order to guarantee recyclability.
Meanwhile, the Replenish refill bottle was highly commended for their focus on tackling the problem of disposable packaging and reducing the amount of waste generated by disposable bottles with its concentrated refill system and customisable bottles.
Thank you again to all our readers who took the time to vote, and we hope to hear from you again next year!