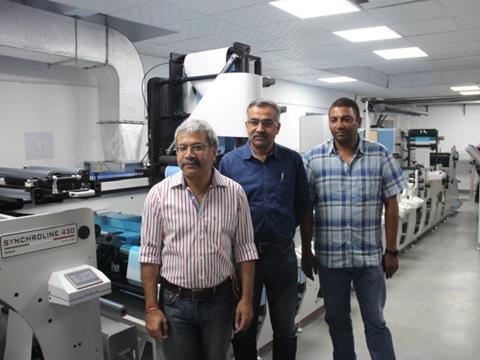 VINSAK, the exclusive partner of Lombardi in India, has installed a Synchroline UV Flexo Press at Neovation, Udyog Vihar-Gurugram.The label printing & converting industry is growing in leaps and bounds and so is the flexography in Indian packaging market.
VINSAK have announced the fifth installation of Synchroline in India, with full credit to Lombardi Team for developing such a versatile press. The 8-color fully servo UV press is equipped with movable cold foil, chiller, two die-cutting stations with easy waste, slitter, turn-bar, re-lam, de-lam, sheeter, conveyer and lamination.
Mr. Raman Anand Chahl, Founder & CEO-Neovation Graphics Pvt. Ltd. added" We have ordered the Synchroline Press to boost our label production capacity. We are a premium packaging producer with a select list of large corporate clients across industry verticals of FMCG, Aviation, Cosmetic & Pharma. The Investment in Synchroline is mainly attributed to its quality control, quick change over, ABS (Air Blade System) for pneumatic adjustment of doctor blade and pre-register system. Also, VINSAK, with its considerable domain knowledge as a service provider played a significant role while purchasing this machine."
"The Flexo will help Neovation to print jobs on an extensive range of substrates ranging from 12 micron film to 450 GSM boards which will provide an extra edge to us to deliver value-added solutions to our customers."
Apart from Lombardi Synchroline, VINSAK have installed LSR 330 for finishing of labels and VINSAK TIJ (Thermal Inkjet System) to print personalized data like Barcodes, text & numbers on labels.
The installed VINSAK LSR is PLC operated to ensure total reliability and flexibility for each of the operation. It also having optional additional attachments like 100% web inspection system, die-cut station, and bulk waste re-winder. The machine is operated via integrated control panel and run up to speed of 300 meters/minute. The VIS TIJ will be used to print high-definition and high resolution (600*600 DPI) personalized data on diverse substrates. Each print head is disposable and maintenance free having a print width of 12.5 mm controlled by the VINSAK controller.
Mr. Neeraj Sharma, Executive Director-VINSAK added: "Considering the growing Indian Flexo market and need of the hour to invest into new & advanced print machinery to counter the competition, it's a very good decision by Neovation to invest in Synchroline, LSR and VINSAK TIJ for a complete printing & converting solution. We wish Neovation will grow in leaps and bounds in the markets that it plans to enter."
More info: