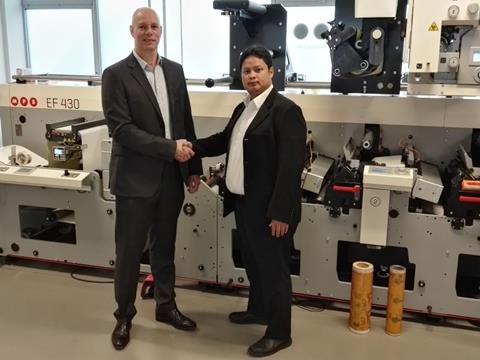 MPS has appointed PT. IDG (Inti Digital Grafika) as its new local agent for the Indonesian market. Owned by Ahmad Sopian and based in Indonesia's capital of Jakarta, IDG brings active engagement in the narrow web printing industry since 2004 with highly technical service representatives.
The appointment of IDG as local representative in Indonesia is part of MPS' strategy to expand presence in Asia. Wim van den Bosch, CEO of MPS comments: "After building up a very reputable presence in Western Europe since our founding in 1996, we then expanded globally with an increased focus on North America (MPS Systems North America Inc.) in establishing local sales, installation, service and assembly operations, led by Denny McGee and Kees Nijenhuis. We are now well-positioned to increase our market share in Asia — the appointment of IDG as our agent in Indonesia is an important step in this process."
With years of expertise in the flexo industry, Ahmad Sopian brings a strong advantage in representing MPS locally and sharing his flexo know-how with customers. He adds: "We have a vast network in the Indonesian label and flexible packaging markets that can benefit from investing in MPS high-quality and innovative presses to boost productivity." Ahmad Sopian received extensive training at the MPS headquarters in the Netherlands for flexo, offset, and hybrid printing solutions, with additional technical training on-site at MPS planned for IDG's service engineers.
First MPS press for PT. SURYA BARU in IndonesiaFollowing the formalized agency agreement with MPS, IDG has since finalized its first sale to PT. Surya Baru. The Jakarta-based label printer purchased an EF 430 multi-substrate press equipped with the APC (Automatic Print Control) package, and state-of-the-art applications such as de-lam/re-lam, web turner bar, and a double Quick Change Die unit with iStrip matrix rewinding on rail.
Owned by Mr. Haryanto and established in 2004, PT. Surya Baru is an innovative, forward-thinking organization that specializes in label printing and is committed to providing advanced labeling solutions. PT. Surya Baru recognizes the significance of their customers label investment, as it positions their product in the market and conveys the company's image. Haryanto comments: "Our focus is on providing the highest quality for our customers and showing added value through reliable, honest and timely service at a fair price."
The first MPS EF 430 for PT. Surya Baru was a strategic decision to increase the company's capacity to fulfill customer needs with high quality labels, just-in-time delivery and high printing capacity. Ease of operation, press automation and world-wide support were also reasons why PT. Surya Baru opted for MPS.
Haryanto concludes: "I am very confident that with our new MPS EF flexo press, we will serve the Indonesian market well and deliver the highest level of service and solutions to our customers."
More info: