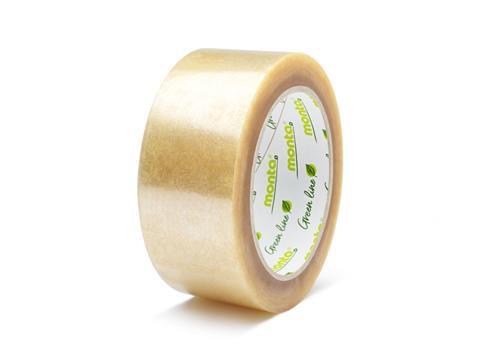 Adhesive tapes expert monta discusses its new self-adhesive tape, monta reTec 831, made with post-industrial recycled polypropylene (rPP), in the latest edition of our Innovation Spotlight.
The calls for increased use of plastic recyclates coupled with the progress in recycling technologies gave German tape manufacturer monta Klebebandwerk GmbH the impulse to develop a sustainable self-adhesive tape based on a recycled backing material.
Industrial plastic waste that was previously discarded is given a new life by processing it into 100 percent post-industrial rPP at the film manufacturer's facility. This carrier material is then coated with natural rubber adhesive at the monta plant in Germany, creating the new self-adhesive tape monta reTec 831.
Its filmic backing material does not only conserve virgin fossil-based resources, it also has a direct, positive impact on CO2 emissions: the raw materials utilized for monta reTec 831 have a carbon footprint that is 33% lower than that of monta's conventional BOPP tape, monta 331.
Designed to securely seal medium heavy to heavy cardboard boxes, the sustainable monta reTec 831 offers the same technical performance as its BOPP counterpart. It can handle challenging deep-freeze applications and difficult surfaces like testliners, and is well suited for application with hand dispensers as well as sealing cartons in automated packaging lines.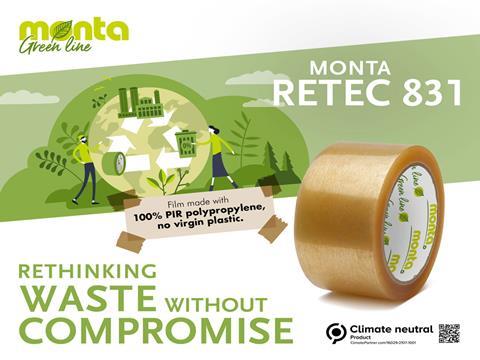 Less is more
Responsible use of resources is important when selecting raw materials, but also when applying packaging tape.
When tapes must be applied in multiple layers to achieve a reliable seal, material consumption increases significantly, wasting valuable resources. Closing a carton also takes more time, resulting in increased cost.
monta tapes with natural rubber adhesive usually seal the box with just one layer, for a reliable and more efficient result.
To minimise packaging waste, monta has added 21% more tape to each roll of monta reTec 831, also boosting process efficiency by reducing the number of times the roll needs to be changed.
Product range grows greener
With a size of 30 billion square metres annually, the packaging tape market has huge potential for "green" alternatives. In 2019, "monta Greenline" was launched with the introduction of monta biopack, a 90% bio-based packaging tape.
monta reTec 831 is an additional high-performance tape, expanding monta's eco-friendly Greenline portfolio.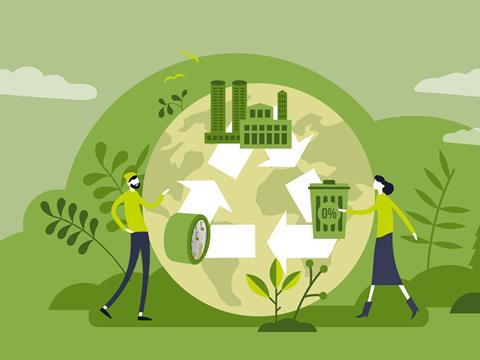 Carbon neutral new standard for monta Greenline tapes
In collaboration with ClimatePartner, monta has gone one step further and calculated the Product Carbon Footprint (PCF) for all monta Greenline tapes. By supporting recognised climate protection projects that are accredited to international standards, monta has been compensating CO2 emissions for all monta Greenline tapes since August 2021, transforming all monta Greenline tapes into a carbon-neutral product range.
https://monta.de/en#product-preview
This content was sponsored by monta.