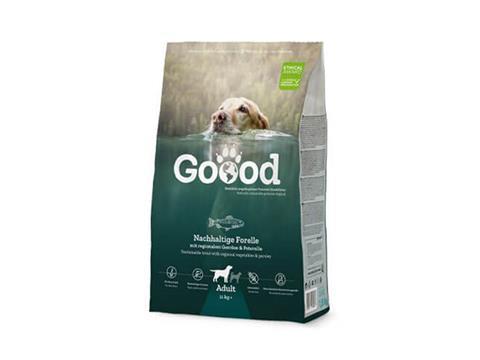 Mondi is launching two new bags for German pet food producer Interquell, which it says deliver both consumer convenience and sustainability benefits.
The pet food manufacturer asked Mondi to create two sizes of paper-based packaging bags with a functional plastic barrier for its premium 'Goood' dog food. According to Mondi, the resultant FlexiBags meet Interquell's goal to reduce the amount of plastic used, while ensuring premium product protection and convenient handling for consumers.
Georg Müller, CEO Interquell Petfood, says: "Sustainability is key for us: we invest heavily in the protection of natural resources and work with as many local materials as possible. We also support environmental initiatives, such as with our partner One Earth – One Ocean, which removes 10kg of plastic from the oceans for every 10kg of dry food we produce.
At the same time, it is essential that our products are protected in their packaging so that our high-quality pet food can be transported, stored, and easily served."
Mondi says that it uses up to 50% renewable resources to produce the re-closable paper-based bags. In addition, the base paper production, film creation, and final conversion are all managed in-house by Mondi, resulting in what the company describes as a "significant reduction in carbon emissions."
Regarding disposal, a representative from Mondi told Packaging Europe: "When the pet food is fully consumed and the packaging becomes waste, the packaging can be placed in the yellow bin."
Commenting on the partnership, Emilio Vidri, European sales director for consumer flexibles, said: "We pride ourselves on our bespoke solutions and personal working relationships with our customers. Using our EcoSolutions approach, we asked all the right questions from the outset to get the best results for our products, customer, and the environment.
"The Goood FlexiBag is a perfect illustration of our commitment to creating packaging that is sustainable by design, and using paper where possible, plastic where useful. Superior functionality fits the premium brand, maintains the freshness of the product, is easy for the consumer to use, and results in reduced food waste."