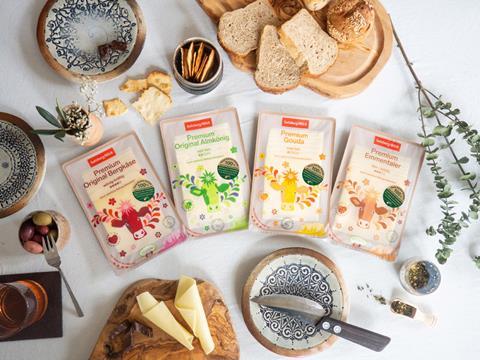 Mondi is launching a recyclable, 80% paper-based packaging solution for cold meats and cheese in partnership with Austrian dairy producer SalzburgMilch.
The new solution will be used for SalzburgMilch Premium and SPAR's own-brand Natur*pur organic cheese slices, and is projected to reduce the company's plastic usage by 40 tonnes per year, compared with its previously-used rigid plastic trays.
According to Mondi, the shallow paper tray combines the recyclability of paper with the essential barrier properties of a thin plastic coating to keep food fresh and avoid waste.
The product is an updated version of Mondi's PerFORMing range, which was originally introduced in 2019. The updated solution now consists of paper and fully removable plastic, which the company says can easily be separated from the paper tray allowing for 100% paper recycling across Europe.
The product is made locally in Austria, meaning transportation is kept to a minimum and the overall carbon footprint is reduced. The base paper for the tray is "Advantage Formable", which is made predominantly from locally sourced wood and produced by Mondi Frantschach, while the trays are processed and coated by Mondi Zeltweg - both companies are located in Austria.
Marko Schuster, COO of Mondi Functional Paper & Films, said: "Food waste is a global issue and we want to play our part to ensure our packaging is sustainable by design and addresses the issue of food loss. We always had an aspiration to continue improving our PerFORMing range.
"The PerFORMing removable uses paper where possible, significantly reducing the carbon footprint, and plastic when useful, to extend the shelf life and help prevent food waste. As both components can easily be separated and the paper fully recycled across Europe, this is a big step for us with waste streams differing vastly across regions.
"We will continue to further develop our products as we work with partners to create a circular economy for sustainable packaging."
Dr. Gerhard Drexel, SPAR CEO, added: "Our initiative 'Save plastics together with SPAR' aims to avoid plastics completely or reduce them significantly. Mondi's paper-based and recyclable packaging creates innovative solutions for fresh products that could not be sold without packaging."