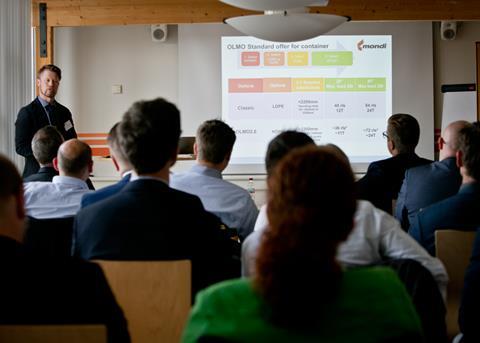 What do foam machine producers, polymer specialists and recycling companies have in common? They all followed Mondi's invitation to meet, discuss about latest trends and to learn from each other at Mondi's OLMO Paper Day in Örebro, Sweden.
No matter if you think of your car, your shoes, your comfortable couch or state-of-the-art mattress, we are constantly surrounded by products made of flexible foam, which are designed to make our life more enjoyable. For more than 30 years, Mondi has been one of the leading producers of peelable process liner used in the flexible foam industry. Due to the peelability of the paper liner the PE-film sticks to the foam while the paper can be removed smoothly.
The more technically sophisticated mattresses become, the higher the costs for the chemicals used. Due to the peel effect of the OLMO paper, the PE-film avoids that the foam sticks to the paper, thus prevents material loss, and therewith saves expensive TDI. Moreover, the barrier of the PE-film protects the foam during curing from moisture, UV and reactive chemicals, leading to a uniform hardness and sharp edges and thereby to better quality of the foam.
Over the years we have developed new grades and adjusted their portfolio to meet their customers' need in the best way possible. But being experts in paper coating was never enough. We have used every possibility in the last decades to learn about polyurethane, polyols and about foaming machines. Long lasting relationships and collaborations have lead to active references by leading industry players all over the world. "We use our broad network to gain an even deeper insight into the industry and to extend our knowledge, and by doing so, we are able to support our customers in every step along the way – every day", says Industry Group Manager Mondi Extrusion Coating Ola Forsberg.
Not only the product has been constantly upgraded, also the way of ordering has been modernized over the past year. With our OLMO paper web inquiry current and potential customers can order and send inquiries 24/7. However, this is by far not the only advantage. The customer can easily see if the quantity and dimensions he or she requires fit on a container or if small adjustments help to make the transport easier and especially cheaper by utilizing the full capacity. Users of the OLMO paper web inquiry liked especially the easy handling and the visualization of the tool.
For many participants a special highlight was the visit of our plant where they could see the impressive extrusion coating lines. They were also surprised that we supply into many different industries varying from food to corrugated packaging but also into the rigid foam industry used for building insulations as well as into their area of flexible foam. Different industries that have one thing in common: they require the best possible barrier material – every day.
More info: