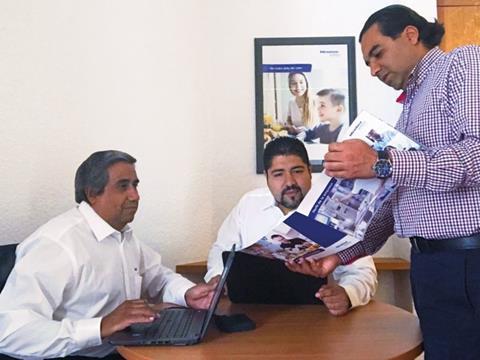 Leading industrial weighing and inspection supplier Minebea Intec is expanding its global presence with the opening of a new facility in Mexico City, Mexico. With this step the well-known company continues its successful market development in the Americas.
The new location of Minebea Intec in Mexico City includes an office for sales and marketing, an area for technical services and support with a repair center and a warehouse to enable short delivery times for local customers. Minebea Intec Mexico will be responsible for the complete Mexican market. This also includes the local partner business which is the sales channel to bring the industrial scales product portfolio to industrial end-users.
The newly formed team will focus its activities on the strategic development of the Mexican weighing and inspection market for all Minebea Intec products, solutions and services. All employees are strong experts in their area of activity, having comprehensive product and application knowledge and long-term business experience within the Mexican industrial weighing and inspection market.
The local Sales & Service Manager, Marco Rangel, explains: "I am convinced that this proactive step of Minebea Intec to invest into the Mexican market will be of great value to local industrial customers and partners." At the same time, Willy-Sebastian Metzger, Director Business Development & Strategy at Minebea Intec emphasizes "The opening of the Mexican office is an important step in Minebea Intec's ongoing investment and expansion efforts in order to better serve existing and future customers in Latin America, but especially in Mexico that is the key market for Minebea Intec´s further development in Latin America".
In Mexico, Minebea Intec will offer an extensive range of weighing and inspection products, solutions and services for diverse manufacturing processes – from goods in to goods out, including platform scales, vessel and silo scales (load cells), checkweighers and equipment for detecting foreign objects (metal detectors and x-ray inspection systems), as well as software solutions for statistical process control and formulation applications. The focus is on helping manufacturers specifically within the food, pharma and chemical industry to help operate safe, reliable and efficient processes.
The quality seal "German Quality" and the continuous investment in the development of leading technologies stand for the quality of products and services. The company's global presence ensures customer proximity and makes it possible to support customers throughout the entire life cycle of the company's products and solutions. This can take the form of product consulting or design-in support, and can range from installation, calibration, maintenance and repair to machine upgrades, modernization and user training.
More info: