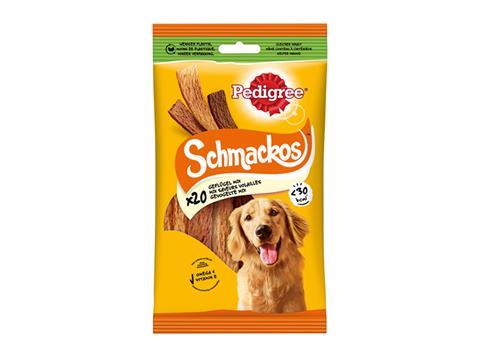 Mars Petcare has shared insights from new pilots that are part of ongoing efforts to help reach its 2025 goals of reducing the use of virgin plastic by 25% and for 100% of its plastic packaging to be reusable, recyclable or compostable.
Pedigree Schmackos, one of the brand's dog treat products, has reduced 23 tons of plastic and 60 tons of paper in its sachets and cases. This is a 12% reduction in plastic usage and 36% in paper. Overall, the reduction will impact almost 20 million sachets of Schmackos in 2021.
Meanwhile, DREAMIES, a cat treat, reduced the amount of plastic used to make their 60g packs by 10%, removing 47 tons of plastic.
Royal Canin has simplified the design and structure of its dry pet food bags with the aim of boosting circularity, piloting its first flexible mono-material plastic packaging in some European countries, which will be recyclable where the infrastructure exists.
Marika McCauley Sine, global vice president of sustainability at Mars Petcare, comments: "Pets, people and the planet are at the heart of our sustainability goals. Our vision is a circular economy in which no packaging goes to waste. These pilots are important steps toward achieving our commitment as part of Mars Inc for 100% of all our packaging to be recyclable, reusable, or compostable by 2025, and to reduce our use of plastics overall."
These latest steps to reduce plastic waste follow an announcement in 2020 that Mars Petcare is also incorporating recycled plastic into the primary packaging for some of its popular pet food brands, in partnership with global packaging supplier Huhtamaki and petrochemical specialist SABIC.
This packaging is already being introduced across some of Mars Petcare's SHEBA pouches in Europe, and through that is supporting the qualification and scale-up of the chemical recycled resin industry.