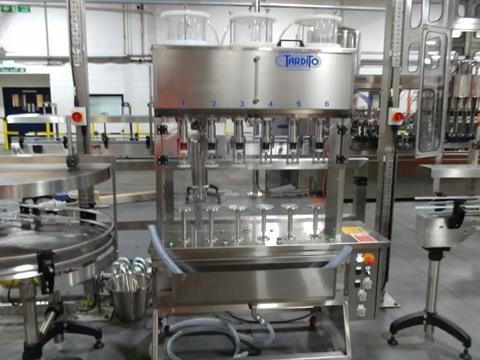 The Craft spirit boom in the UK is not restricted to the 180 plus Craft Gin Distillers, but with Vodka, Welsh Whiskey and premium edition Scotch Whisky Blends and Malts becoming ever more popular with all the large international distillers jumping on the bandwagon, the need for high quality Craft Spirit lines is becoming an important issue for this burgeoning market.
Craft premium spirits, by their very nature, need premium packaging so they look the part on high end bars or in private homes and all this needs to be applied by well- engineered equipment.
Richard Portman, Managing Director of Makro Labelling UK Ltd said, "A number of our existing customers asked if we could look at a number of projects and we sourced some really top quality Italian equipment that is scalable, if required, that can fill, apply stopper cork or Ropp closures and back and front labels with high precision.
The semi auto lines can operate with up to four operators at 40 b.p.m. These lines come in at £60.000 delivered and installed and if you do the maths payback can be in as little as two months."
Richard continued, "We have sold and installed three of these lines in the last few months and have orders for three more lines all to be installed in early Autumn. The mindset of the Craft distiller is very different to the Craft brewer, of course the unit selling price is very different, which makes a huge difference for the distillers' bottom line. I am sure some of them will develop and then require the next step up to a small fully auto line and having said that flexibility is key to this sector of the market and our lines offer this inbuilt flexibility."
The lines on offer include infeed conveyors and rotary tables feeding the rinser and the filler, which may be either a 4 or 6 head inline filler and single head capper together with an inline labeller that applies a body and back label. The labeller can also be equipped with a mechanical spotting device to accurately apply the labels, a packing area conveyor is provided. If the clients output increases then in time an automated carton packing station can be included and an automatic depalletiser.
Richard concluded, "This new business for us comes at a very exciting time for Makro in the UK, we have enjoyed our best year to-date since the UK company was founded seven years ago, which mirrors the success that Makro Italy is enjoying around the world. We have several very exciting new machines on show at the forthcoming drinktec exhibition and I look forward to discussing any projects with clients at the show."
More info: