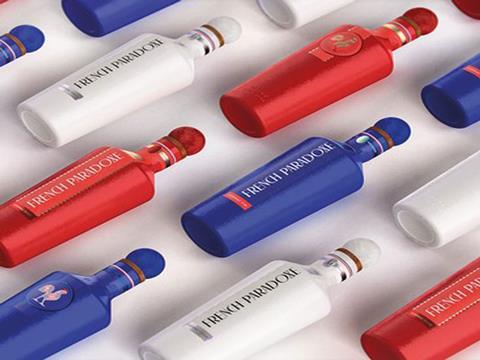 Avery Dennison, Estal and LEONHARD KURZ are set to co-launch 'Make a Mark', a collaborative platform for new developments in sustainable and innovative wine and spirits packaging.
According to the group, the collaboration initiative is aimed at designers, printers and materials providers in the beverages sector. The project is expected to continue for three years.
Gerard Albertí, CEO of Estal, says: "Since wine and spirits packaging is more than just a glass bottle and stopper, we thought, why not join forces with the most respected industry leaders in labeling and finishing to see how much further we can push creative innovation?
"And what if we invited some of the world's top packaging designers and turned this into a platform for showcasing new creative ideas while also building an inspiring design community?"
The group says that eighteen packaging design studios from various regions have come on board for the project so far.
In Europe, this apparently includes Swedish design agency Motherland, Ruska Martín Associates from Germany and Spain, and Smith Lumen and Spazio Di Paolo from Italy, to name a few. UK-based companies Butterfly Cannon and Pocket Rocket Creative have also joined the collaboration, according to the companies.
In Central and South America, Anagrama from Mexico, Argentinian company Boldrini & Ficcardi, and JVD Estudio, who are based in Chile, have all contributed to the project. Meanwhile, Chad Michael Studio from the USA also participated.
Elsewhere, Australian drinks branding company Denomination has joined the collaboration, while Dragon Rouge will be contributing to the project from China.
The group says its global collaborators were asked to develop a wine or spirit brand concept combining sustainability, luxury and innovation for 'Make a Mark's first project: a book set to be launched at Luxepack Monaco this month.
Collaborators were apparently asked to bring their "boldest ideas" to life, as usual constraints of costs, tight deadlines, and client requirements did not apply. Access to some of the industry's latest technologies enabled these ideas to be executed, according to the companies.
Some of the concepts featured in the book include a whiskey brand that "pairs elegance with acknowledgment of the crises facing freshwater and oceans" and a design for a wine bottle that "draws energy and colour from Argentina's move toward democracy in the early 1980s".
2,000 copies of the book will be printed in a limited-edition launch. The group adds that it intends to expand the 'Make a Mark' book series.
The group says it has also planned other projects bringing together brands, designers, and materials providers over the next three years.
According to Vladimir Tyulpin, market segment leader for wine & spirits at Avery Dennison: "We are all more innovative when we collaborate. And innovation is more essential than ever.
"The urgent need for sustainable packaging, the new ways COVID-19 is forcing us to shop, and the increasingly crowded playing fields in wine and spirits all demand bold new approaches, from the bottle shape to the label material to the design.
"'Make a Mark' was created to kick down the barriers that separate the contributors to wine and spirits packaging and give us more opportunities to collaborate and innovate."
Luxepack Monaco, where the 'Make a Mark' book will debut, runs from the 27th to the 29th of September 2021.