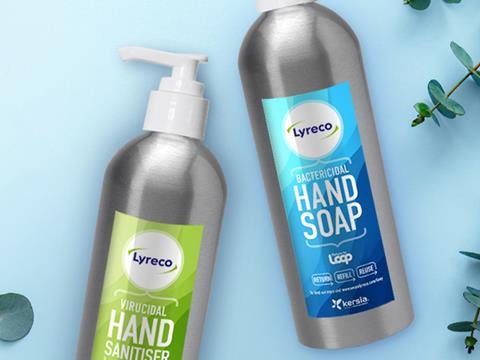 Loop is partnering with Lyreco on a proof-of-concept trial that will see hand soap and hand sanitisers for offices being sold in bespoke reusable packaging.
During the trial, customers can place an order through Lyreco's webshop. The product will be delivered, along with a reusable tote bag, in which the empty containers can be put after use.
The products will be used until empty but then, instead of throwing the empty packaging away, the customer can let Lyreco know the products are ready to be taken away, cleaned, refilled and reused.
Made of heavy-duty, stainless steel, the bottles utilised in the trial can be used, professionally cleaned, refilled, and reused up to 100 times.
"Rethinking packaging provides the opportunity to develop new packaging designs that not only look good and are functional but also sustainable at the same time," says Blandine Surry, general manager for Loop Europe.
"We are thrilled to see the Loop model expanding into business to business with a convenient model that enables to broaden the impact of Loop on reducing waste."
In line with its 2025 Circular Economy Pledge, Lyreco is currently providing end of life collection and recovery on a range of products, phasing out single-use plastics in its offices, and removing what it describes as "non-circular packaging" from the products it sells. On a broader level, the business claims to have cut its CO2 emissions by 57% since 2010
Lyreco's managing director, Michael Milward, says: "We have always placed sustainability as a business priority, so partnering with Loop for this proof-of-concept trial is a natural step in the right direction to create a more sustainable, circular shopping cycle for our customers.
"We look forward to seeing the results of the trial, and how this brings us closer to our 2025 Circular Economy pledge goal, to offer end-of-life collection and recover material assets back across our products and categories in the future."