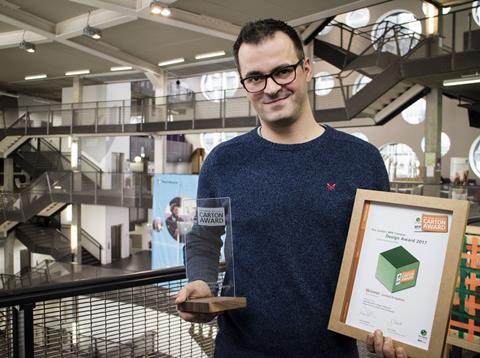 Speaking about his packaging concept, Balazs Kovacs added: "I believe packaging is an essential part of the quality street food experience. It is how vendors present their delicious food and how consumers interact with the products and ultimately the packaging. With my solution, I intended to design something that is complementary to the food, provides a clean and comfortable experience for the consumer, affordable for the vendor and protects our environment."
Kovacs was recognised at an award ceremony at Ravensbourne, a higher education sector college in Greenwich, London on Wednesday 20th December 2017. The award was presented by Tony Hitchin, General Manager of Pro Carton and Jon Clark, General Manager of BPIF Cartons.
The UK Young Designer Competition forms part of a Europe wide competition to recognise and reward young designers using cartonboard which is one of the most sustainable packaging materials.
More info:
www.procarton.com/awards/pro-carton-young-designers-award/2018/