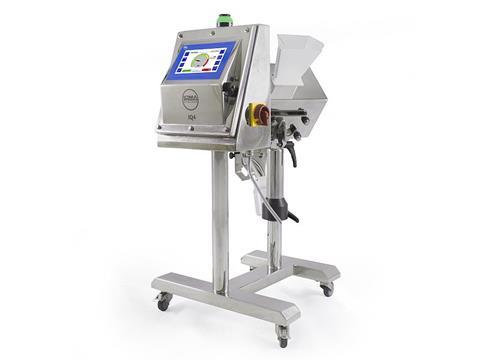 Loma Systems has launched the next generation Lock-PH IQ4 Pharmaceutical Metal Detector. The new machine boasts improved sensitivity and industry-first features designed to ensure optimum production efficiencies and reduced operating costs.
Incorporating Loma's IQ4 metal detector technology for the first time, the latest Lock-PH IQ4 Pharmaceutical Metal Detector is capable of inspecting up to 30,000 tablets or capsules per minute. Typically installed after the tablet press and de-dusting processes, the system's improved stability and manoeuvrability ensures easy integration with tablet presses, de-dusters, polishers and encapsulation equipment.
Loma's IQ4 metal detector technology has been designed to meet the common inspection challenges increasingly faced by global pharmaceutical and nutraceutical manufacturers. It provides design, performance, usability, quality and flexibility benefits, whilst meeting the company's 'Designed to Survive' criteria and ensuring low lifetime cost of ownership.
The Lock-PH IQ4 Pharmaceutical Metal Detector's upgraded 'H' frame helps counteract the surrounding noise pollution that can cause false rejects. Durable castor wheels enable operators to quickly move and secure the machine between lines. Height and angle of tilt can be easily adjusted allowing the metal detector to be quickly relocated and operational within minutes.
A 7" colour touchscreen with new, easy-to-use interface offers 33% more space than previous Loma pharmaceutical metal detectors. Both simple and intuitive, the HMI has a wide choice of language options and also benefits from password protected security levels for operators, supervisors, engineering and administration who each require unique user passwords.
In addition, the Lock-PH IQ4 Pharmaceutical Metal Detector's compact, flexible design means it can be located on virtually any production or packaging line without disrupting the plant layout.
James Chrismas, International Pharmaceutical Business Manager at Loma Systems comments: "Loma has enjoyed a long-standing relationship with the pharmaceutical industry and consistently helped major companies successfully anticipate and satisfy the quality assurance demands of regulatory authorities, retailers and manufacturers alike.
He continues: "With brand protection firmly positioned at the top of the corporate agenda, product integrity is more important than ever. This places even greater demands on inspection equipment to deliver high speed contamination control, whilst eliminating costly downtime. We are confident that the upgraded Lock-PH IQ4 Pharmaceutical Metal Detector will further improve operating efficiencies and quality standards, and ensure effective contamination detection across the complete tablet production process."
The system also offers 'fully digital processing' functionality for conversion of analogue signals to digital processing in the detection head. This eliminates interference from the various frequencies emitted by tablet presses and digital radios, for example. A voltage measurement read-out allows the customer to properly monitor calibration.
Loma's Lock-PH IQ4 Pharmaceutical Metal Detector offers calibrated detection levels of 0.25mmFE, 0.3mmNFE and 0.4mmSt/St.
The system is available with fully documented Installation Qualification (IQ), Operational Qualification (OQ) and Performance Qualification (PQ) validations for compliance with FDA, GAMP and GMP specifications. It is design and construction compliant with 21CFR parts 10 and 11 and certified to NEMA 4X / IP66.
The two-piece product chute is produced from white ABS plastic with a clear PETG upper piece for easy viewing of product during the inspection process and minimises any static interference. An integrated aperture location stop facilitates operator safety and protects the metal detector.
The metal detector benefits from full connectivity, with an external USB port, wired Ethernet and SCADA link options. Loma's Lock-PH IQ4 Pharmaceutical Metal Detectors incorporate Direct Digital Signal (DDS) which displays a clear graphic representation during machine set up. It reduces programming errors plus helps verify the rejection of contaminated product and test samples.
There are 200 product pre-sets and permanent memory stores up to 8,000 data events, even during a power interruption or disconnect. At a throughput of 30,000 tablets or capsules per minute, the robust nature of the software is a critical control point for guaranteeing detection and rejection of metal fragments.
Available with 12 different reject options, Loma's Lock-PH IQ4 Pharmaceutical Metal Detector is ideally suited to a wide range of site and process requirements. They reject minimal product and can be removed for cleaning without the use of tools. To accommodate high potency preparations, wash-in-place and dust-tight metal detectors are fitted with dust-tight and water-tight product chutes and reject systems.
James concludes: "Backed by unparalleled after-sales care and consultancy on a global basis, Loma's Lock-PH IQ4 Pharmaceutical Metal Detector continues to set new benchmarks for efficiency, product quality, GMP, traceability and compliance with existing and forthcoming regulatory requirements."